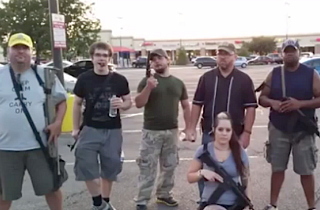 Last week, Texas open carry laws became a hot topic after Chipotle issued a statement requesting that customers not bring their weapons into the restaurant, while maintaining that they respect local laws on the matter. That soft policy was brought about in response to a demonstration by groups like Open Carry Texas, who photographed themselves carrying rifles into the burrito shop.
Mother Jones posted video today showing the open carry group attempting to demonstrate their ability to carry firearms into a Texas Sonic and Chili's franchise. They were met with a mix of "nervous and angry responses," as MoJo describes it, and it begs the question of whether these sorts of provocations are really helpful for the debate over open carry laws.
Both videos themselves were filmed by the open carry activists, but were later removed. MoJo obtained them eventually and published them on their website.
In the Chili's demonstration, the videographer shows off his vz. 58 selective fire rifle before entering the restaurant. A manager asks to go to check on the company policy towards gun-carrying before seating the group. One young patron come up to the group to take a photograph. Another customer approaches the group, calls them "Texas retards," and with a mobile device, takes video of each participant.
"Um, actually, there's children here," she tells the group. "And you're a dumbass," she says as she walks away. One group member mockingly agrees, "Yes, I'm a dumbass," and suggests she "must be Moms Demand Action," alluding to the anti-gun activist group that has fought for restaurant chains to ban open carry.
The manager eventually returns and informs the group that he'd be happy to feed them, but requests that they leave the firearms outside. Watch the video below:
The group also entered a Sonic with their rifles, and were asked by a worker to leave the restaurant until they've left their weapons outside. As they leave the dining area, one activist complains that he feels like a child again, where he's being told he can't do what he wants to do. Watch the video below:
Neither Chili's nor Sonic have issued company-wide policies on open carry in their restaurants.
— —
>> Follow Andrew Kirell (@AndrewKirell) on Twitter
Have a tip we should know? tips@mediaite.com