Video: Scene Cut From 'Seal Team Six' Doc Shows Mitt Romney 'Appearing To Oppose' Bin Laden Raid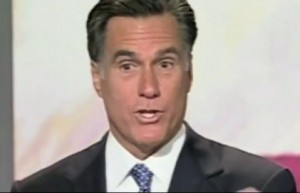 The New York Times recently reported that The National Geographic Channel insisted that a "scene" be cut from the documentary SEAL Team Six: The Raid on Osama bin Laden, which showed Republican presidential nominee Mitt Romney "appearing to oppose the raid."
The Huffington Post has obtained video of the "scene," which is actually a news clip that shows Romney opposing the notion of a unilateral raid into Pakistan at a 2007 debate, one of several statements he made, at the time, to that effect.
According to The Times, Nat Geo president Howard T. Owens told reporters that "his company had insisted on removing a scene that showed Mitt Romney appearing to oppose the raid."
"We wouldn't air this if it were propaganda," he said.
However, the scene Owens refers to is actually a clip from a nationally televised presidential debate, presented along with a 2007 clip of then-Sen. Barack Obama promising to go into Pakistan to get Osama bin Laden, whether Pakistan liked it or not. You can view the clip from SEAL Team Six: The Raid on Osama bin Laden here, from HuffPo.
President Obama confronted Romney, at the final presidential debate, with some of his prior statements about the use of unilateral military action to kill Osama bin Laden, but not all of them. The day before that debate, Gov. Romney told Reuters that "I do not concur in the words of Barack Obama in a plan to enter an ally of ours… I don't think those kinds of comments help in this effort to draw more friends to our effort,"and added that "We want, as a civilized world, to participate with other nations in this civilized effort to help those nations reject the extreme with them."
The President also attacked Romney for comments he made, in April of 2007, that "It's not worth moving heaven and earth spending billions of dollars just trying to catch one person," referring to Osama bin Laden.
After President Obama ordered the successful 2011 raid that killed Osama bin Laden, carried out without the government of Pakistan's prior knowledge, Gov. Romney told Chuck Todd that ""In a similar circumstance, I think other presidents and other candidates, like myself, would do exactly the same thing."
View the exclusive video here.
— —
>> Follow Tommy Christopher (@tommyxtopher) on Twitter
Have a tip we should know? tips@mediaite.com