VIDEO: What Sen. John McCain Was Doing Instead of Speaking at 'I Have a Dream' Anniversary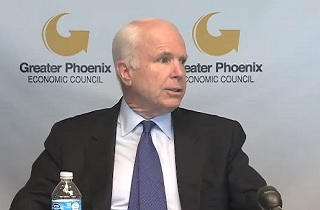 While it has already been widely reported that Republican leaders blew off Wednesday's 50th anniversary commemoration of the March on Washington to, among other things, speak to oil lobbyists and do not much of anything in Jackson Hole, we actually have video of the pressing business that prevented Senator John McCain (R-AZ) from accepting an invitation to speak at the historic commemoration, aside from his appearances on Morning Joe and Fox & Friends that morning.
Senator McCain is famously adept at managing last minute scheduling snafus, but when offered the honor of speaking at Wednesday's commemoration of Dr. Martin Luther King, Jr.'s "I Have a Dream" speech, he turned it down because of a scheduling conflict that he just couldn't get out of. It must have been something really important, too, given that McCain voted against the Martin Luther King, Jr. federal holiday, and supported its rescission in his home state a decade later. Given such a gracious shot at redemption, you would think that wild horses couldn't keep him away.
What did keep him away, however, is an immigration roundtable with a Phoenix business group called the Greater Phoenix Economic Council, and as luck would have it, the whole thing is on video. Here's what Sen. John McCain was doing while he could have been the only Republican to speak at the March on Washington event:
McCain wasn't even the only Republican who voted against the King holiday to be invited as a speaker. According to ABC News, organizers "reached out late in the planning process to the office of Rep. James Sensenbrenner, a veteran congressman from Wisconsin who has been prominent on voting-rights and sentencing-reform issues."
He declined, although he did make it to an RNC event commemorating the march. Rep. Sensenbrenner also voted against making Dr. King's birthday a federal holiday. On Wednesday, he was back home in Wisconsin, speaking to the Milwaukee Journal Sentinel about fixing the Voting Rights Act.
Here's Matt Wilstein's rundown of what the other Republicans who blew off invitations to speak at the event were doing:
Former Presidents George H.W. Bush and George W. Bush: It was notable that the two former presidents, Jimmy Carter and Bill Clinton, who spoke at the event were both Democrats, with the Bushes nowhere to be seen. The 41st and 43rd president were both invited, but chose todecline because of health reasons. In a statement, George W. Bush said, "There on the National Mall our President, whose story reflects the promise of America, will help us honor the man who inspired millions to redeem that promise."
House Speaker John Boehner (R-OH): The top Republican in the House declined his invitation because of a scheduling conflict. He is currently in Jackson Hole, Wyoming and had no public events scheduled for Wednesday. Boehner did attend an official congressional commemoration of King's "I Have a Dream" speech on July 31st.
House Majority Leader Eric Cantor (R-VA): According to the Grand Forks Herald, Cantor spent Wednesday touring oilfields in North Dakota with Rep. Kevin Cramer (R-ND) and meeting with the North Dakota Petroleum Council lobbying group.
Senator John McCain (R-AZ): Despite having voted against making Dr. Martin Luther King, Jr.Day a federal holiday in 1983, the event committee did invite McCain to speak, but he declined due to unspecified "scheduling conflicts."
Have a tip we should know? tips@mediaite.com