(Photo: Mary Altaffer/AP)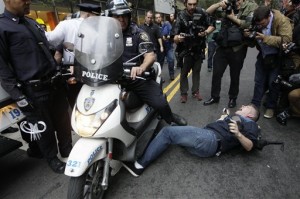 Just moments after Zuccotti Park authorities decided to postpone the cleaning of Occupy Wall Street's base of operations, protesters celebrated the minor victory by leaving the park and marching to Wall Street. We'll get to the irony of this later, but, with the mantra of "we cleaned up the park, now let's clean up Wall Street," and with some wielding brooms, OWS took to the streets, catching police off-guard and causing a clash that got very heated, very quickly.
CBS New York reported that police asked protesters to stay on the sidewalks. To make sure they obeyed, NYPD officers drove in force to clear the roads:
Police scooters were shaped like a V and moved toward the protesters in the standoff. One man lost his balance, and was run over by a police scooter. Police descended on the protester and got him out from under the bike, but violence broke out
Police said the protesters were throwing garbage and bottles at officers. 1010 WINS' Steve Sandberg reported that:
"A First Precinct Commander hurled his megaphone and wound up rolling around in the street with a protester, throwing punches. Other officers surrounded the white-shirted officer, throwing punches."
The protesters eventually returned to the park, and the New York Daily News is reporting that there is now a checkpoint at Broadway and Wall Street, where police are checking IDs. There are sure to be plenty more updates and video of the skirmishes — if not more clashes — before the day is out.
From the New York Post:
Have a tip we should know? tips@mediaite.com