Virgin Mobile U.S. Pulls Ad With Rapey Subtext, Replaces With Equally Creepy Stalker 'Joke'
'Tis the season to very publicly work out your weird issues with women, if the folks at Virgin Mobile U.S. are any indication. This weekend, the mobile phone provider was the subject of a Twitter campaign aimed at a web ad that many found offensive, which caused the company to pull the offending image… and replace it with another offensive image, before killing the entire feature. Objections first arose to an entry in the site's "The Gift Of Christmas Surprise" slideshow that featured a man covering his wife's eyes, with an internet meme-style caption that read "Necklace? Or Chloroform?"
The image was captured by the Everyday Sexism Project's Twitter feed, and tweeted along with a suggestion that other users tweet Virgin Mobile U.S. and Virgin Group Chairman Sir Richard Branson (who does not own Virgin Mobile U.S.) to get the image taken down: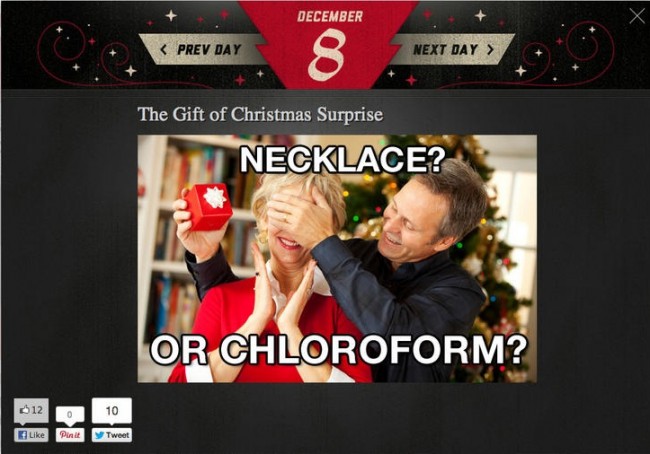 For those of you who never watched TV in the 70s, chloroform is a liquid whose vapor renders human beings unconscious. What happens next is no laughing matter. You know you're in trouble when your best defense is "Well, maybe he's just going to murder her."
The protest was a quick success, drawing a denunciation from Branson, and the image was pulled:
Branson had indeed seen the advert. And despite not owning the company – Virgin Mobile USA was bought by communications giant Sprint Nextel in 2009 – the entrepreneur made his views known to those responsible.

In a post on the Virgin group website, Branson wrote: "Having just seen, for the first time, the Virgin Mobile US advert which has upset many today, I agree it is ill-judged.

"Although I don't own the company, it carries our brand. I will speak to the team there, make my thoughts clear and see what can be done about it."

He added: "Virgin Mobile US usually get these things right, although on this occasion it is clear they have gone too far."

In an update to the post, Branson confirmed that the people behind the ad had acknowledged that "a dreadful mistake was made" and had agreed to remove the advert within the hour, "never to be seen again".
All's well that ends well, right? Not exactly. The chloroform picture was removed, but as Everyday Sexism noted, replaced with this:
I'm not actually sure which is worse, since you could argue the first picture resulted from an ignorance of the subtext, while this one overtly references sexually predatory behavior. Either way, these guys need to spend more time with other people, and less time tending to their extensive menagerie of rare moths.
Although the folks in Virgin Mobile U.S.' advertising department seem to have fa-la-la-la-la-la-lost their minds, the company had the good sense to subsequently remove the entire feature.
I'm not sure where this story fits in with Bill O'Reilly's War On Christmas™, since the slideshow did at least use the words "Christmas surprise," but it is a testament to the power of social media.
Have a tip we should know? tips@mediaite.com