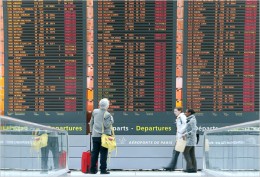 Three days after the volcano eruption in Iceland crippled air travel in Northern Europe 77% of flights on the continent were canceled again today. Thus far much of the attention has been focused on the multitudes of passengers stranded worldwide, as well as the financial hit the airlines are taking (to the tune of $200 a day….and that's a modest estimate). However the havoc being wreaked by all the grounded flights is far more widespread.
Yesterday a slew of world leaders, including President Obama, canceled plans to attend Polish President Lech Kaczynski funeral due to the flying conditions (German Chancellor Angela Merkel is apparently trying to get back to Germany from Lisbon on a bus). And the American military is feeling the affects. From today's NYT:
The shutdown has also affected American military operations. Military supplies for operations in Afghanistan have been disrupted, and a spokeswoman for the Pentagon said that all medical evacuation flights from Iraq and Afghanistan to Germany, where most injured soldiers are typically treated, were being diverted directly to Andrews Air Force Base in Maryland.
The question now appears to be whether Eyjafjallajokull is done erupting — and no one has a clear answer on that. If it's not things could get fairly dire, fairly quickly:
[…]The economic damage will roll through to farms, retail establishments and nearly any other business that depends on air cargo shipments. Fresh produce will spoil, and supermarkets in Europe, used to year-round supplies, will begin to run out…."If it really drags on another week that could be really serious," said Peter Westaway, chief economist for Europe at the Nomura investment bank. The air travel shutdown could affect productivity, he said, if hundreds of thousands of people miss work or are not able to do business because they are stuck in limbo somewhere.

"We don't understand how interconnected we are until you can't do it anymore," he said.
Does that sound a tad post-apocalyptic to anyone else? Meanwhile, I feel like trans-Atlantic passenger ships may be about to make a comeback.
Have a tip we should know? tips@mediaite.com