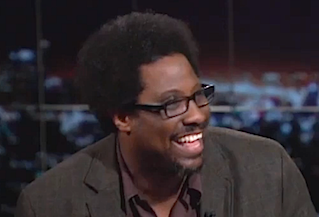 Two weeks ago, we brought you this clip from Real Time with Bill Maher, in which the host tricked his guests into thinking a quote from First Lady Michelle Obama about how kids these days sit on the couch all day dreaming about a "baller" or a "rapper" was actually said by Rep. Paul Ryan (R-WI). What we did not bring you was one of those guest's subsequent responses to Bill Maher's game of "gotcha."
W. Kamau Bell, who, until recently, hosted his own late night show on FXX called Totally Biased, published a post on his website expressing his frustration with the way Maher made him and the other guests feel foolish by telling them the quote was made by Paul Ryan and getting their reactions before revealing the truth.
"I (apparently) lost a game on Bill's show that I didn't know I was playing," Bell wrote. "The game was 'Gotcha!' And according to the Internet (and the number of misspelled and nigger filled — the word, not the people — tweets in my timeline), I got gotcha'ed!"
He went on to explain that the show's producers gave him a heads up about the first, real quote from Ryan that had turned into one of the week's big political controversies, and even asked him "as an African-American" to jump into the discussion first. "Anyone who knows me knows I'm a sucker for conversations about race and racism in America," Bell wrote. "Well, I got played for a sucker."
Bell took offense to the point Maher was apparently trying to make ("Is something less true if a white person says it about black people?"), writing, "this clip has turned out to be a Rorschach test for ignorance. If you think he gotcha'ed me or the panel, I feel sorry for you."
After laying out the more interesting points of comparison between the Ryan and Obama quotes, Bell argued that an intelligent conversation about those issues was never what Maher intended:
Bill obviously didn't want to have that conversation because if he had, he woulda had his awesome and gracious staff give the panel the Michelle Obama quote, too. He wanted to play "Gotcha!" Hey, good on him. It's easy to trip people up if that is your sole intention. Go outside right now and see how many people you can trip while they walk around. I guessing it's damn near 100%. Does it feel good? Not to me.

But again, who am I to judge? Bill's got the rightfully acclaimed, long running hit show, and mine was canceled. I'm not even sure why he would waste his time gotcha'ing me. Was Al Sharpton not available?
Read the full post at WKamauBell.com.
Watch video below, via HBO:
[photo via screengrab]
— —
>> Follow Matt Wilstein (@TheMattWilstein) on Twitter
Have a tip we should know? tips@mediaite.com