Walker: Reagan's Union-Busting 'Most Significant Foreign Policy Decision' of My Lifetime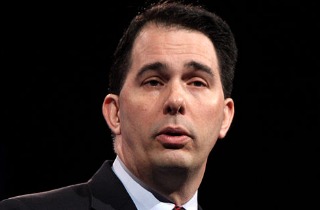 Newly-minted GOP frontrunner Scott Walker told a group of potential donors in Florida Saturday that Ronald Reagan's union-busting was "the most significant foreign policy decision of my lifetime."
Per the Washington Post's Philip Rucker, the Club for Growth event's moderator asked him whether he was prepared to speak on foreign policy. Walker listed his tutelage with conservative foreign policy heavyweights, but then changed course.
"I think foreign policy is something that's not just about having a PhD or talking to PhDs," he said. It's about leadership."
RELATED: Rick Perry: Walker Went Too Far with ISIS-Protester Comments
As evidence, he praised Reagan's breaking of the Professional Air Traffic Controls Organization in 1981, a devastating blow to organized labor, as a global demonstration of strength. "It sent a message not only across America, it sent a message around the world" that America "wouldn't be messed with," he claimed.
Walker added that as commander in chief "I would listen to the chain of command. I would listen to the generals in the field, not just those in the joint chiefs. I would listen to the secretary of state, to the secretary of defense and to the national security adviser."
These remarks came two days after the Wisconsin governor claimed his experience defeating public sector unions enabled him to fight ISIS. "If I can take on 100,000 protesters, I can do the same across the world," Walker said at CPAC Thursday.
[h/t Washington Post]
[Image via screengrab]
——
>> Follow Evan McMurry (@evanmcmurry) on Twitter
Have a tip we should know? tips@mediaite.com