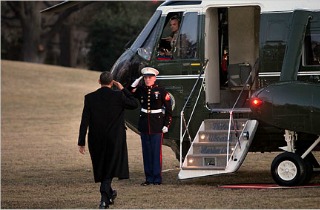 Since the end of the government shutdown, good news for this White House has been hard to come by. President Barack Obama's poll numbers are falling rapidly and his signature achievement, the Affordable Care Act, is less popular than ever. But no matter the problems this president is facing, few would say there is any chance that he would vacate the Oval Office before his second term is complete in 2017. Few, that is, except one Wall Street analyst who calculates the odds of even unlikely events occurring for a living.

"If Obamacare is the fiasco that some headlines are suggesting it is, I place the odds around 10 percent the president will resign before next November's election," said Kent Engelke, managing director at the brokerage Capitol Securities Management.
Engelke told Fox Business reporter Julie VerHage that he got the 10 percent figure by observing that 7 percent of American presidents have faced impeachment or the prospect of resignation. He added another 3 percent to that figure based on the amount of animosity that exists between Obama and the members of Congressional from both parties.
RELATED: Obama: America's 'Opportunity Gap' as Much 'About Class as It Is About Race'
"Because of the lack of a strong relationship with congress, I think there are few Democrats who will fall on the proverbial grenade to protect the president," Engelke added.
VerHage quotes other Wall Street analysts who say Engelke's analysis, that there was even a 10 percent chance that Obama would resign, was highly unlikely.
"It's not normal for a financial analyst to make predictions of that nature," said Rafferty Capital analyst Dick Bove. "The reality is that if the president resigns, it creates chaos."
h/t Fox Business
[Photo via Doug Mills/The New York Times]
— —
> >Follow Noah Rothman (@NoahCRothman) on Twitter
Have a tip we should know? tips@mediaite.com