WaPo: AG Sessions Did Not Disclose Conversations With Russian Ambassador During the Campaign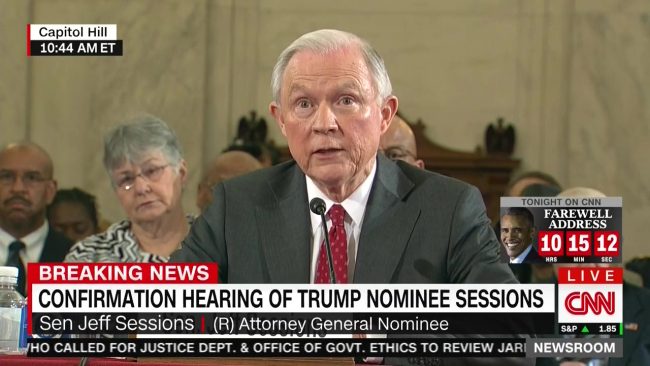 The Washington Post reports tonight that Justice Department officials are saying Attorney General Jeff Sessions spoke to the Russian Ambassador to the United States twice last year.
These conversations reportedly took place in July and September, while he was part of the Trump campaign. The July conversation was at a Heritage Foundation event, while the September one was in his Senate office.
During his confirmation hearings, Sessions was asked by Senator Al Franken, "If there is any evidence that anyone affiliated with the Trump campaign communicated with the Russian government in the course of this campaign, what will you do?"
Here is Jeff Sessions denying contact with the Russians — which the @washingtonpost reports is not true pic.twitter.com/EuA77ECE45

— Bradd Jaffy (@BraddJaffy) March 2, 2017
Sessions responded, "Senator Franken, I'm not aware of any of those activities. I have been called a surrogate at a time or two in that campaign and I did not have communications with the Russians, and I'm unable to comment on it."
A spokeswoman for Sessions explained why he did not disclose those two conversations at the time:
"There was absolutely nothing misleading about his answer," said Sarah Isgur Flores, Sessions's spokeswoman.

Justice officials said Sessions met with Kislyak on Sept. 8 in his capacity as a member of the armed services panel rather than in his role as a Trump campaign surrogate.

"He was asked during the hearing about communications between Russia and the Trump campaign — not about meetings he took as a senator and a member of the Armed Services Committee," Flores said.
UPDATE – 10:33 pm ET: One Trump administration official has offered this comment:
Trump admin official on Sessions/Russian envoy: "superficial comments about election-related news, not substance of their discussion"

— John Harwood (@JohnJHarwood) March 2, 2017
UPDATE – 10:35 pm ET: The Wall Street Journal reports tonight that U.S. investigators have been looking into contacts between Sessions and Russian officials during the campaign.
UPDATE – 10:37 pm ET: Senator Lindsey Graham said tonight that if there's something there, "it is clear to me that Jeff Sessions, who is my dear friend, cannot make this decision about Trump."
UPDATE – 11:22 pm ET: CNN has obtained the following statement from the White House:
WH blames Sessions story on Democrats trying to damage POTUS after speech to Congress. pic.twitter.com/pZ5VcMIeEJ

— Jim Acosta (@Acosta) March 2, 2017
UPDATE – 11:38 pm ET: And now Sessions himself has issued a statement saying he never discussed campaign matters with any Russian officials:
SESSIONS STATEMENT pic.twitter.com/upyQQf5jZX

— Chris Geidner (@chrisgeidner) March 2, 2017
[image via screengrab]
——
Follow Josh Feldman on Twitter: @feldmaniac
Have a tip we should know? tips@mediaite.com
Josh Feldman - Senior Editor