WaPo Critic Who Linked Apatow Movies to UCSB Shooting Now Praising His 'Feminist' Works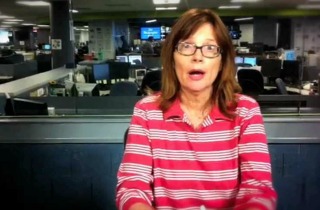 This week, columnist Ann Hornaday's piece in The Washington Post linked the mass killing in Santa Barbara to a "misogynistic" culture perpetuated by buddy and romantic comedies like those from writer and director Judd Apatow. Amid criticism for this commentary, Hornaday clarified that she was merely using Apatow as one example of a larger phenomenon in American popular culture. And in an interview on Tony Kornheiser's radio program on Thursday, Hornaday said she understood the criticism for her column and praised Apatow's past work.

"I used Judd Apatow comedies, and I also used the movie Neighbors," Hornaday told Kornheiser on Thursday. "So, in other words, I was using their work as an example, not to suggest blame or cause and effect."
"And I will be honest," she continued. "I honestly do understand why they are upset, because nobody wants to be associated with this. And using them as an example, even though, again, I wasn't suggesting cause and effect, I can understand their dismay. I really can."
RELATED: WaPo Columnist: The Real Culprit in Santa Barbara Shooting Is… Judd Apatow?
She went on to praise Apatow's legacy of creating feminist works of art and helping feminist icons find their audience.
"If this had been about Apatow, then I would have felt honor-bound to say he created one of the most feminist pieces of work and, I would daresay, a masterpiece in the history of pop culture, which was Freaks and Geeks," Hornaday noted. "And I will defend Funny People until the cows come home. And he has also helped Lena Dunham find an audience."
[h/t The Daily Caller ]
[Image via screengrab/Washington Post]
— —
>> Follow Noah Rothman (@NoahCRothman) on Twitter
Have a tip we should know? tips@mediaite.com