WaPo Fact Checker Gives Hillary Clinton Lowest Possible Rating For DOMA Claim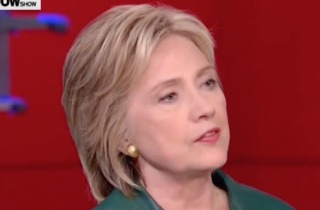 The Washington Post Fact Checker awarded Hillary Clinton "Four Pinocchios," its lowest possible rating, for claiming that her husband Bill Clinton only supported the Defense of Marriage Act to prevent a constitutional amendment outlawing gay marriage.
Clinton was challenged by MSNBC host Rachel Maddow last week about Bill's support of the law, which designated at the federal level that marriage was between a man and a woman. "On Defense of Marriage [Act], I think what my husband believed — and there was certainly evidence to support it — is that there was enough political momentum to amend the Constitution of the United States of America, and that there had to be some way to stop that," she said in his defense.
But gay activists who were central in the fight against DOMA accused Clinton of "revisionism" afterwards, saying that the notion of a marriage amendment didn't take hold until the Bush years. Even longtime Clinton ally Hillary Rosen took Sanders' side, tweeting, "Note to my friends Bill and Hillary: Please stop saying DOMA was to prevent something worse. It wasn't, I was there."
The Washington Post agreed. Reporter Michelle Ye Hee Lee notes that there were no anti-gay marriage constitutional amendments drafted in Congress in 1996, and there was no media reports indicating anyone planned to. In short, "we did not find clear evidence to support [Clinton's] explanation."
Lee says that the Post flirted with the idea of only awarding Clinton three Pinocchios instead of four, since a few Clinton loyalists were publicly backing her claim. But she notes that Hillary said that "there was certainly evidence to support" her claim, which falsely implied the public evidence was clearly in her favor. "That's absolutely wrong — and thus tipped us to Four Pinocchios," Lee writes.
[Image via screengrab]
——
>>Follow Alex Griswold (@HashtagGriswold) on Twitter
Have a tip we should know? tips@mediaite.com