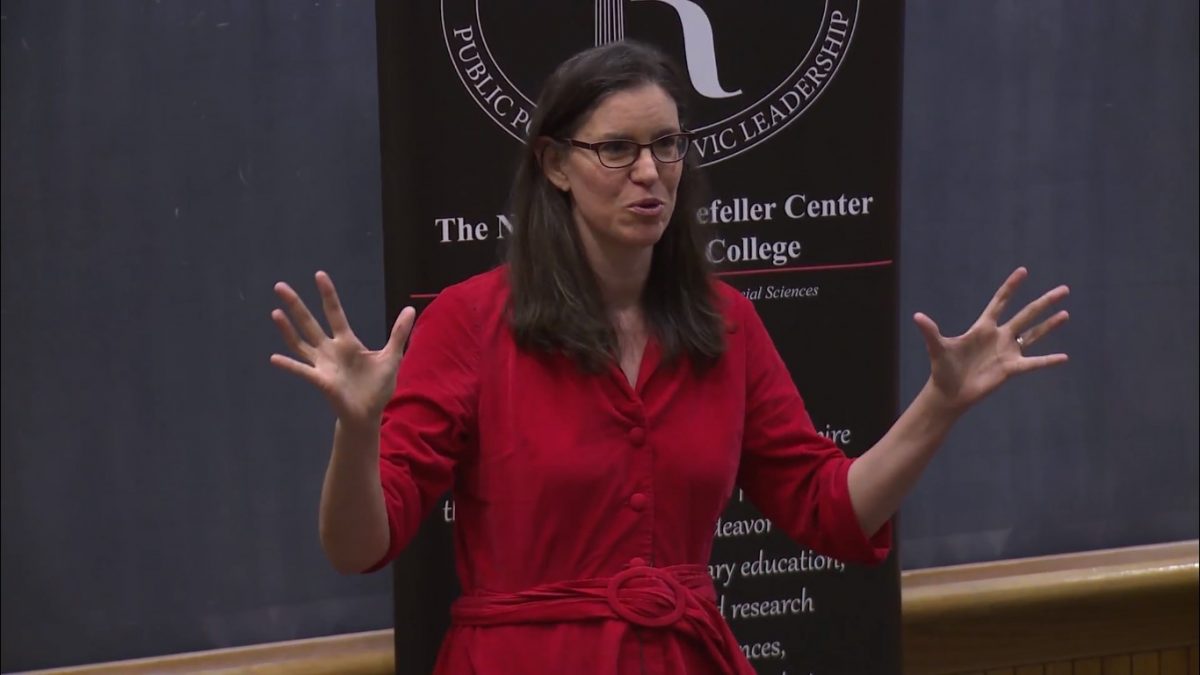 Nearly 15 years ago, the Washington Post editorial board printed a column supporting George W. Bush's decision to invade Iraq.
While most major newspapers and mainstream outlets promoted the warmongering Bush administration's plan, the Post took it up a notch — publishing 140 pieces on their front page essentially making the White House's case for war prior to the March 19, 2003 attack.
The decision to support the Iraq War, which led to the murder of countless innocent people and the destruction and destabilization of an entire region for countless years to come, is by far the worst idea to ever come out of the paper's opinion page — but thanks to their hiring of nepotism-case and Koch brothers fangirl Megan McArdle, readers can now look forward to similarly atrocious takes from the Post on a regular basis.
This week, it was announced McArdle will join the paper's opinion team covering "economics, business and public." Editorial page editor Fred Hiatt defended the hiring decision by saying: "Megan offers one of the liveliest, smartest, least predictable takes on policy, politics and everything else, from the history of washing machines to essential rules for living. We're excited to share her perspective and her distinctive voice with our readers and to deepen our coverage of economic and financial topics."
While I vehemently disagree with nearly everything Hiatt said about McArdle, he is right about the Ayn Rand-wannabe offering some wildly unpredictable takes — given not many others in the establishment press have the gall to demand Iraqis pay the US for destroying their country, or refer to themselves as a "child of privilege" and proceed to tell poor folks how they, too, could be rich if they weren't so financially careless.
However, McArdle's embarrassing takes — always insulated by a combination of lifelong privilege, Koch money, and her father's paycheck — aren't weighed down by the burden of self-awareness.
McArdle's story begins with her father, as nearly all great nepotism stories do. Francis McArdle was a wealthy lobbyist for the General Contractor's Association of New York whose clients were accused of "pervasive corruption, bribery, racketeering and union-busting by state officials," according to research accumulated by the Shame Project. But the scandal surrounding her father's work didn't stop him from sending McArdle to the fourth most expensive private school in America — an institution so pricey that it costs more today than most college educations.
She went on to receive her Ivy League undergrad from the University of Pennsylvania and an MBA from the University of Chicago. Her choice of post-graduate programs is particularly noteworthy for McArdle's brand of economic libertarianism, since Chicago has pumped out similar reprehensible "free market" minds such as "The Chicago Boys," who — under the guidance of Milton Friedman — contributed to the destruction of Chile under Augusto Pinochet's brutal right-wing dictatorship.
After a job in management consulting fell through, McArdle cashed in on her trustfund baby-status once again and got a job under her father's wing in the post-9/11 New York City construction industry. But McArdle wasn't exactly wielding a jackhammer on Canal Street, as her time in construction involved the kind of meaningless paper pushing that's defined her entire career.
She then started blogging under the Atlas Shrugged themed pen-name "Jane Galt" — a female spin-off of Ayn Rand's gritty, entrepreneurial figure John Galt, which offers a glance into how McArdle views herself. On this blog, McArdle seethed over supposedly high corporate tax rates and regurgitated the all-too-common conservative complaint about being a persecuted right-winger in a liberal city.
Like any good nepotism recipient, McArdle blames her problems on outside forces out of her control, despite the Randian talking points she spouts to the poor on personal responsibility. A perfect example of this is McArdle's response to her post-grad plans falling through after her Foreign Service application was rejected, declaring it was the institution's fault since she could "only go to Paris" due to her asthma — as she apparently assumed the breathing conditions in other countries were inadequate.
So McArdle instead turned her focus to writing — with her takes really heating up around the time US coalition forces first started destroying the oil-rich Al-Faw peninsula in 2003.
She ran free propaganda for the Bush administration by attacking critics of the war and calling economic expert James Galbraith "nuts" for estimating the Iraq invasion's cost at $2 trillion. "When the war doesn't cost us $2t, people are going to remember that the next time you talk about the costs of a program you don't like," McArdle noted in her attack on Galbraith.
As we now know, McArdle's reputation is the one that should be shot, as a report from the Costs of War Project shows America's bloodlust in Iraq racked up an over $2 trillion bill that could grow to $6 trillion in the coming years.
Amazingly, in the same rebuttal against Galbraith, McArdle added that even if the $2 trillion number is real, Iraqis should pay back the US for devastating their country via funds that "come out of Iraqi oil revenues."
McArdle's love affair with the war went so far that she channeled her inner Based Stickman and published a blog fantasizing about violently beating anti-war protesters with "a two-by-four" in the streets of New York City.
The Economist hired McArdle as a blogger that same year.
She has since written for The Atlantic, The Daily Beast, and Bloomberg View — holding down her beat of defending the ultra rich and powerful from criticism.
As disturbing as McArdle's attraction to war is, that doesn't make her uniquely terrible compared to her equally warmongering peers in the Washington and New York media-sphere. Her bit about making Iraqis literally pay the US for war crimes is bad, but even Center for American Progress chief Neera Tandren wants Libyans to repay America for their destruction in the Middle East.
What makes the Koch-trained writer especially deplorable is her constant urge to justify income inequality and her patronizing, pull-yourself-up-by-the-bootstraps message to low-income Americans.
For instance, in one infamous McArdle-ism, titled "The Gentrifier's Lament," she claims to have had a conversation with a low-income black man on a Washington, D.C. bus where he argues that gentrification is actually a good thing for the community. While there's almost no chance the discussion really happened, McArdle's disdain for the poor and minorities shine through via a quote she attributes to this unnamed person of color:
"'A lot of people are saying you all are taking the city from us. Way I feel is, you don't own a city.' He paused and looked around the admittedly somewhat seedy street corner. 'Besides, look what we did with it. We had it for forty years, and look what we did with it!"
Additionally, her response to the 2008 subprime mortgage crisis was almost as bad as her response to the Iraq War. To all the American families who lost their homes due to the recession and were forced to live on the street, McArdle suggested they shouldn't feel too bad because the financial disaster is actually "worse for the wealthy," and will therefore reduce inequality.
She stumped for the same bankers who caused the crash, laughed at the idea that any of them be held legally responsible for their crimes, and claimed anyone who purchased a home during the subprime bubble are the real "profiteer[s] who laughed all the way to the bank," despite many losing those houses.
For as "woke" as the Washington Post loves to paint itself under the current administration — with their "Democracy Dies in Darkness" slogan and searing, anti-Trump op-eds — their newest addition doesn't share the same progressive mindset, as she once argued that gay marriage should not be legalized because it would cause the "institution" of marriage to "fall apart."
Moving past her more disturbing views, even when McArdle isn't aggressively pushing pro-war propaganda and defending billionaire bankers, her mindless dribbling adds no value to readers. For instance, one of McArdle's staples is a bizarre self-help philosophy in which she regularly offers some of the worst advice imaginable. Why someone who has never had to work for anything in her life is offering life advice is a mystery, but she had enough opinions on the matter to publish an entire self-help book.
A classic McArdle-ism comes from a Bloomberg piece in which she wishes herself happy birthday by telling readers to follow 12 simple steps if they want to end up just like her. I won't break down every single one of her headass life hacks, but the third tip on her list sums up McArdle's entire self-help strategy and, of course, includes a patronizing message to poor people:
"Always order one extra dish at a restaurant, an unfamiliar one. You might like it, which would be splendid. If you don't like it, all you lost was a couple of bucks. If you can't afford to order that one extra dish, then the restaurant is too expensive for your budget and you should find a cheaper one."
Another classic work is her article, "Why Is Italian Food So Amazing?" In this one, McArdle advises Italian chefs to embark on a sort-of Dustbowl-style population transfer so they can spread the wonder of good "prosciutto" to the rest of America. (Seriously, she actually argues this.) McArdle attempts to draw a parallel between free market economics and quality pasta, but it's lost in her shitty writing.
By far the deadliest of McArdle's life advice is her idea that children should be taught to "gang rush" school shooters "rather than following their instincts to hide" — a suggestion so absurd that only someone who has never experienced real fear or worry in their entire lives could come up with it.
Bizarre self-help advice aside, with McArdle's history of right-wing advocacy in mind, it's clear the Post's main reason for hiring her is the establishment media's current obsession with affirmative action hiring of conservatives to get in touch with the Real America they supposedly missed in the 2016 election.
As seen by the New York Times poaching former Wall Street Journal columnist Bret Stephens — noted fan of waterboarding and incidental drone strikes against "innocent" people — and the Post's hiring of Trump apologist Hugh Hewitt, it pays to sell yourself as a right-wing "intellectual" in Trump's America.
While this may be news to the Post's editorial board, no average American wants to be lectured by Megan McArdle as she drivels on about Italian food, defends war crimes, and claims the rich are more virtuous than the poor, but that won't stop the paper from publishing her outrageous, poorly-written articles that will only be appreciated by her friends in the Upper East Side or hate-read by Mediaite writers like myself.
[images via screengrab]
Follow the author on Twitter (@calebecarma).
This is an opinion piece. The views expressed in this article are those of just the author.