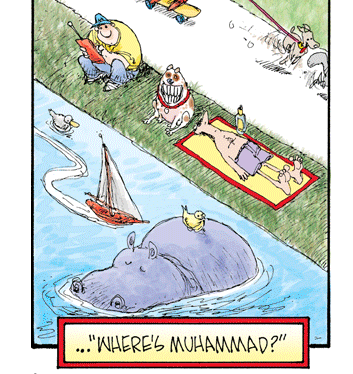 Last week, a number of newspapers, including the Washington Post, decided not to run Sunday's Non Sequitur comic. The cartoon featured a parody of the the popular Where's Waldo? series of children's books with the caption "Picture book title voted least likely to ever find a publisher…" followed by a drawing of a charming park scene and the answer/punchline: "Where's Muhammad?" Andrew Alexander, the Post's Omsbudsman, has now written a letter stating the paper's editors were wrong for removing the cartoon.
From the Washington Post:
"Surely some may be displeased by 'Where's Muhammad?' But unlike with the Danish cartoons, it's hard to imagine it would incite protests. Miller intentionally did not depict Muhammad, and the cartoon is not a blasphemous attack on the prophet. If anything, it's a powerful and witty endorsement of freedom of expression.

Post editors believe their decision was prudent, given the past cartoon controversies and heightened sensitivities surrounding Islam. But it also can be seen as timid. And it sets an awfully low threshold for decisions on whether to withhold words or images that might offend."
Alexander also writes that Non Sequitur cartoonist Wiley Miller was "fuming" with the censorship. The Omsbudsman even got a quote from Ibrahim Hooper, communications director of the Council on American-Islamic Relations, to prove that the cartoon wasn't offensive. Still though, his claim that one can't imagine the comic inciting protests is questionable. Consider the fact that the comic is very similar in content if not execution to the comic that forced a Seattle cartoonist to go into hiding.
However, while Alexander's optimism may be misplaced, the rest of his letter reads well. The censorship last week was just the latest in the year's many Muslim-related overreactions, a sad year where some people tried to hide Americans from the fact that Muslims even exist while major corporations made the equally frightening decision to censor American artists for fear of terrorists.
(h/t Poynter)
Have a tip we should know? tips@mediaite.com