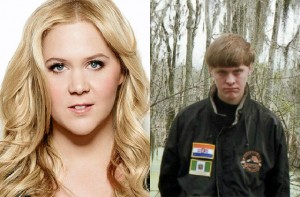 All this time we were blaming the Confederate flag, it turns out comedienne Amy Schumer was the only who "inspired" Charleston shooter Dylann Storm Roof to murder nine African-Americans.
So argues a Washington Post op-ed written by Stacey Patton and David J. Leonard, who are regrettably both college professors. Titled "Don't believe her defenders. Amy Schumer's jokes are racist," the pair rip apart Schumer for racial insensitivity in her comic material.
They open by comparing Schumer's sketch comedy to Donald Trump's comments that most Mexican illegal immigrants are criminals and rapists. "You might not think this duo has much in common, but they certainly share similar views about Mexicans. Whether joking or not, both draw on shared cultural stereotypes and use dehumanizing language that gives life to an ecosystem of racial fear and violence."
"America's soil of racism is fed by jokes and incendiary speeches…" they argue. "Just as Rush Limbaugh,  Donald Trump and other members of the Republican Party regularly disparage people of color and claim they are simply telling the truth, Schumer can use comedy as a protective shroud to deny the harm and hurt caused by her jokes."
That would have been bad enough, but the pair argues that racist jokes "[contribute] to a worldview that justifies a broken immigration system, mass incarceration, divestment from inner city communities, that rationalizes inequality and buttresses persistent segregation and violence."
"Yet nobody wants to take responsibility for spewing rhetoric that breeds the fear that results in soaring gun purchases, that 'inspires' monsters like Dylann Roof to craft a manifesto with deadly consequences," Patton and Leonard conclude.
When criticized on Twitter for her op-ed, Patton accused her critics of "wagging [their] fiber-optic micropenises" and argued that black people can't be racist:
[h/t College Fix]
[Image created using Fotor]
——
>>Follow Alex Griswold (@HashtagGriswold) on Twitter
Have a tip we should know? tips@mediaite.com