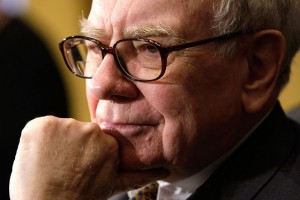 Given the current political climate, in which pundits are accusing politicans for not bragging enough about their achievements and mounting Tea Party conservatism is censuring the government's role in the economy, Warren Buffett's ode to the bailout in today's New York Times might raise some eyebrows. In his thank-you letter to Uncle Sam, he expresses hearty gratitude for the bailout, without which he "would be eating Thanksgiving Dinner at McDonald's," as he said on CNBC's Squawkbox this morning.
Buffett's op-ed, titled "Pretty Good for Government Work," highlights the talking points that too many Democratic candidates were afraid to acknowledge on the campaign trail. Most pointedly, he emphasized that the government's role in the economy should be more than limited. "When our citizens are losing trust by the hour in institutions they once revered," he wrote to Uncle Sam, "Only you can restore calm."
And according to Buffett, Uncle Sam did just that, despite what much of the citizenry might think:
Well, Uncle Sam, you delivered. People will second-guess your specific decisions; you can always count on that. But just as there is a fog of war, there is a fog of panic — and, overall, your actions were remarkably effective.
Buffet sheds the Uncle Sam metaphor for a bit and praises, in a bipartisan fashion, the individuals responsible for preventing an economic depression:
I don't know precisely how you orchestrated these. But I did have a pretty good seat as events unfolded, and I would like to commend a few of your troops. In the darkest of days, Ben Bernanke, Hank Paulson, Tim Geithner and Sheila Bair grasped the gravity of the situation and acted with courage and dispatch. And though I never voted for George W. Bush, I give him great credit for leading, even as Congress postured and squabbled.
It's a bold letter, and many, like Henry Blodget, are already criticizing it. Buffett's already taken to the media to talk about it with his CNBC appearance this morning, and it probably won't be the last time we hear him defend his defense of the bailout.
Have a tip we should know? tips@mediaite.com