Washington Post Columnist Compares Cutting Off Hoodie-Clad Bobby Rush To Jim Crow-Era South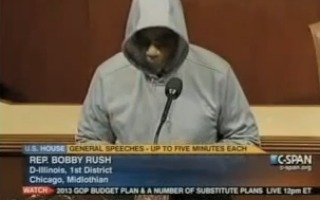 In a March 29 column for the Washington Post, columnist Lisa Miller compared Rep. Bobby Rush's (D-Il) recent appearance on the House floor in a hoodie and sunglasses in support of slain Florida teen Trayvon Martin – and subsequent calls for him to discontinue speaking by presiding officer Rep. Gregg Harper (R-MS) – to how black Americans were treated by Southern whites in the mid-20th Century.
RELATED: Hoodie-Clad Rep. Bobby Rush: Trayvon Martin Family 'Lost A Son But They Have Gained A Whole Generation'
On March 28, Rep. Rush took to the House floor in support of Martin in a hoodie and sunglasses, attire identified by Fox News host Geraldo Rivera as potentially betraying criminal intent, and recited bible passages.
Rep. Harper, noting that such clothing was a violation of House decorum rules, demanded that Rush suspend and asked the chamber's Sargent at Arms to enforce the rules.
"Members need to remove their hoods or leave the floor," said Rep. Harper. Rep. Rush did suspend, but the images of that moment troubled Lisa Miller. In her column, "Trayvon Martin: Doing justice, having faith in social media," Miller sees parallels in the way Rush was treated by the Congressman from Mississippi.
The scene will be rehashed in the media as grandstanding on Rush's part (and surely that is partially true), but the image that lingers is that of one man trying to silence another whose grief and principles led him to protest.

In his new book, "The Cross and the Lynching Tree," the theologian James Cone wrestles with the question of how, during the early years of the 20th century, American blacks could continue to believe in the hope of Jesus while American whites continued to kill their black neighbors and go praise Jesus on Sunday. Rush enacted all that tragic history and more in one moment, with Harper as his unwitting accomplice.
Watch the video of hoodie-clad Rep. Rush's speech on the House floor here:
h/t NewsBusters
Have a tip we should know? tips@mediaite.com