Washington Post Runs Features On WH Counsel Kathryn Ruemmler's … Taste In Shoes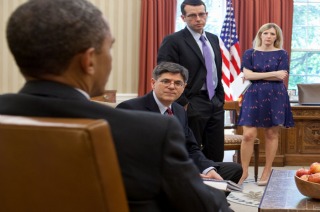 Following a week of leaks to news outlets from sources within the Obama administration blaming White House Counsel Kathryn Ruemmler for sequestering President Barack Obama and his staff from the scope of the scandal surrounding the IRS's targeting of conservative groups, The Washington Post has published yet another Ruemmler exposé. This time, however, WaPo is focused on Ruemmler's noteworthy taste in "fabulous" footwear.

"It may say more about Washington than White House counsel Kathryn Ruemmler that she's known in the West Wing for her fabulous shoes," The Washington Post story opens without noting what this fact may say about Washington itself.
Ruemmler first attracted attention for her glam heels as a Justice Department prosecutor trying Enron executives Ken Lay and Jeffrey Skilling in 2006, when she sported what The Wall Street Journal described as "stunning 4-inch bright pink stiletto spikes."
WaPo reports that one legal affairs blog dubbed her the "star litigatrix" as a result of her competence in the courtroom matched only by her prowess in the fitting room.
RELATED: Jay Carney Insists Obama Comfortable With Learning About IRS Scandal From News Rather Than Advisors
"Now, she wears Manolo Blahniks and Christian Louboutins into the Oval Office," reads just one non sequitur in this WaPo story.
One of Ruemmler's pairs has a jeweled paisley pattern; another is black and strappy. We tried to get a photo from the White House showing one of these exceptional pairs; instead we got this shot of her in a senior staff meeting with the president, revealing a conventional pair of heels.
"Her shoe buying can move markets," said White House communications director Jennifer Palmieri.
No. They don't and she can't. Know what can move markets? The news that the White House counsel concealed from the president the details of a concerted effort by a government agency to systematically intimidate Obama's political adversaries. If proven true, that would be a bad look that no number of expensive shoes can compensate for.
Above: Official White House photograph via Pete Souza
> >Follow Noah Rothman (@NoahCRothman) on Twitter
Have a tip we should know? tips@mediaite.com