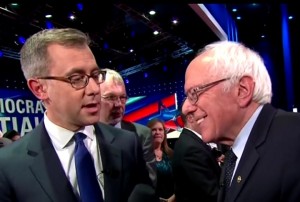 One of the standout moments at Thursday night's Democratic presidential debate was when independent Vermont Senator and Democratic presidential candidate Bernie Sanders was unable to name a single decision that Hillary Clinton has made that was influenced by campaign contributions. The exchange cut against the Sanders campaign's central argument against Hillary, that she can't be trusted to take on corporate interests because she takes large campaign contributions.
In a most unusual move, right after Thursday night's debate, CNN reporter Jeff Zeleny literally fed Bernie Sanders an attack line to use against Hillary in case the subject ever comes up again:
Zeleny: Did you forget to mention the bankruptcy bill tonight, when you were asked by Dana Bash to point out some examples of things where she voted, was that intentional, or was that…

Sanders: That's a point that Elizabeth Warren made.

Zeleny: But you didn't make it tonight, you made it before..

Sanders: Well, I made a few other points, you can't make 'em all.
Zeleny is referring to a 2004 video in which Elizabeth Warren seems to accuse Hillary of switching her vote on a bankruptcy bill because of campaign contributions. Bernie circulated the attack in a campaign memo a few months ago, but then walked back from it in subsequent interviews. Maybe Bernie forgot, or maybe he knew that Hillary Clinton had a ready answer for that charge. I haven't heard him repeat it since.
What's unusual, though, is Zeleny weighing in here with an attack line, because he's a reporter, not a commentator. If he thinks the bankruptcy bill is something that Hillary has to answer for, he should be asking Hillary about it, not feeding it to Bernie without any journalistic pretext. I don't think I've ever seen a reporter chew a candidate's talking point into a paste and then regurgitate it back into their mouths like a mother sparrow.
Interestingly, it was also Jeff Zeleny who wrote the characterization of the Clinton campaign's strategy as "disqualify and defeat," which the Sanders campaign then used as their excuse for Bernie lying and saying Hillary called him unqualified to be president. It seems Zeleny is a handy guy for the Sanders campaign to have around.
This is an opinion piece. The views expressed in this article are those of just the author.