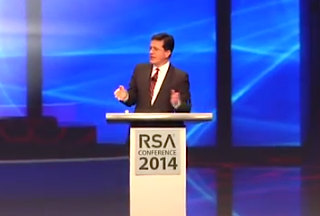 Stephen Colbert delivered the closing keynote address at the 2014 RSA computer security conference Friday night, using humor to address the many revelations about privacy and security that have emerged since Edward Snowden first leaked documents from the National Security Agency. "Let me begin by saying, 0110100001101001. And I mean that," Colbert said at the top of his speech.
He went on to downplay his own personal concerns about privacy. "I don't necessarily want people reading my emails but I'm not a spy, I don't run a crime syndicate," he said. "I've got things I don't want people to know but I didn't really go running for cover for a new way to encrypt."
Colbert also addressed the controversy surrounding the conference and those who urged him not to attend because of the group's previously undisclosed $10 million contract with the NSA.
"Now a lot of people, maybe some in this room, were upset to learn I'd be speaking here today. Many of you see me as a champion of privacy," Colbert told the crowd. "Which I know because I read your emails." He added, "Normally I'm asked not to be somewhere only after I've spoken."
Ultimately, Colbert said Americans can only blame themselves for the security state in which they live.
"We all deserve credit for this new surveillance state that we live in because we the people voted for the Patriot Act. Democrats and Republicans alike," he said near the end of his speech. "We voted for the people who voted for it, and then voted for the people who reauthorized it, then voted for the people who re-re-authorized it."
Watch highlights from Colbert's speech below:
[photo via screengrab]
— —
>> Follow Matt Wilstein (@TheMattWilstein) on Twitter
Have a tip we should know? tips@mediaite.com