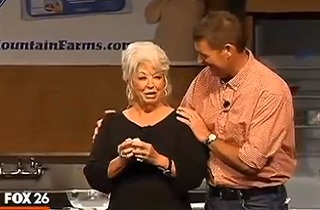 After several months of exile from the public eye, celebrity chef Paula Deen emerged into the public eye Saturday with an appearance at the Metropolitan Cooking & Entertaining Show at Houston's Reliant Center. In her first public appearance since news of her past use of the n-word and racially problematic views broke, Deen was greeted enthusiastically by the crowd, and her tearful reaction was described by son Jamie this way: "That's a ugly cry, Mama."
"I'm sorry!" she said, almost breaking a smile.
"This is my first time out in three months," she told the cheering crowd, "and I've said all along that the one place I would want to make my first step back out was Texas.
Deen is scheduled to make two more appearances at the show on Sunday.
Although this is her first public appearance since the scandal broke, Chef Deen was featured in an episode of Fox's Master Chef two weeks ago, a guest appearance that put her on screen with contestant Krissi Biasiello, who also weathered a controversy when several racist tweets surfaced from her Twitter history, including one which described the NBA as "Niggers Bouncing Around."
That episode was almost surreal in its uneventfulness, as it was filmed in March, before either scandal had surfaced.
Deen is likely encouraged by the reception she received in Texas, but only time will tell how forgiving the rest of America will be.
Here's local Fox 26's report on Deen's appearance, including video of her introduction:
[photo via screengrab]
Have a tip we should know? tips@mediaite.com