'We Don't Think It Swayed the Election': Facebook's Sheryl Sandberg Reflects on Fake News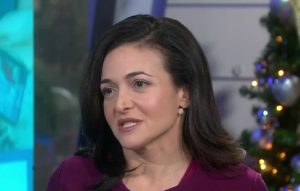 In the aftermath of President-elect Donald Trump's shocking victory over Hillary Clinton last month, a lot of discussion has been devoted to the so-called scourge of "fake news" and the impact it had on netting Trump an Election Night victory.
Shortly after the election, Facebook founder Mark Zuckerberg weighed in and said that he didn't think that false news stories spread on social media had any real impact on the results, calling the notion "pretty crazy." At the same time, Facebook employees upset over Zuckerberg's comments and sensitive over the criticism that they were helping spread fake news said they would create a task force to crack down on those sites.
During an appearance on NBC's TODAY this morning, Facebook COO Sheryl Sandberg doubled down on Zuckerberg's initial position when it comes to whether or not fake news and hoaxes impacted the election.
After saying they've "taken important steps" to stop the flow of these kind of stories on users' newsfeeds, Sandberg dismissed the influence of fake news.
"There have been claims that it swayed the election, and we don't think it swayed the election,'' Sandberg said. "But we take that responsibility really seriously. And we're looking at things, like working with third parties, helping to label false news, doing the things we can do to make it clearer what's a hoax on Facebook."
Hillary Clinton's campaign doesn't feel the same way. In a post-election forum with CNN's Jake Tapper, Clinton campaign manager Robby Mook said fake news was a "huge problem" during the election.
Watch the clip above, via NBC News.
[image via screengrab]
–
Follow Justin Baragona on Twitter: @justinbaragona
Have a tip we should know? tips@mediaite.com