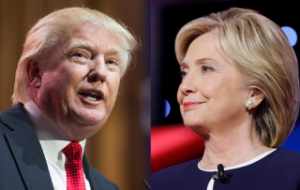 Aides for Hillary Clinton and Donald Trump got pretty heated about the election aftermath during a Harvard University forum yesterday.
Based on multiple reports from the event, it's clear that Team Clinton is still pretty frustrated with how the campaign was covered and what Trump himself was doing during the campaign.
According to The Washington Post, Clinton campaign official Jennifer Palmieri said, "If providing a platform for white supremacists makes me a brilliant tactician, I am proud to have lost. I would rather lose than win the way you guys did."
That led to this fierce back and forth:
Kellyanne Conway, Trump's campaign manager, fumed: "Do you think I ran a campaign where white supremacists had a platform?"

"You did, Kellyanne. You did," interjected Palmieri, who choked up at various points of the session.

"Do you think you could have just had a decent message for white, working-class voters?" Conway continued. "How about, it's Hillary Clinton, she doesn't connect with people? How about, they have nothing in common with her? How about, she doesn't have an economic message?"
Robby Mook and Joel Benenson pointed out at one point that Clinton won the popular vote, and according to ABC News, this resulted in Conway saying, "Hey guys, we won -– there's no need to respond."
She also told Team Clinton, "Guys, I can tell you are angry, but wow. Hashtag he's your president. How's that? Will you ever accept the election results? Will you tell your protesters that he's their president, too?"
The Daily Beast rounded up some of the audience reactions to what they witnessed:
Much of the audience was unimpressed with what was seen as childish behavior fueled by still fresh memories and wounds from a vicious campaign.

Others were more amused.

"This is gonna be good stuff for the history books!" one audience member said.

"It's like a goddamn foodfight," another observed with a smirk.
You can listen to the full audio of the roundtable above.
[image via Shutterstock]
— —
Follow Josh Feldman on Twitter: @feldmaniac
Have a tip we should know? tips@mediaite.com
Josh Feldman - Senior Editor