Weekly World News Rubs It In: New Article Replaces Fox & Friends Hosts With Chimps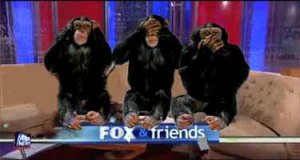 The Weekly World News is relishing in the fact that Fox & Friends believed and reported on their LAPD billion dollar jetpack plan story.
Today they have a breaking report about the hosts of the show being replaced by chimps.
From Batboy, I mean, Frank Lake:
Fox & Friends is going bananas! Out go the monkeys, in come the chimps.

Why did Fox News toss aside their morning hosts like a used banana peel?

Jetpacks.

The hosts of Fox News morning show, Fox & Friends, reported that Los Angeles is going to spend $1 billion on jetpacks that can fly a person up to 63 miles per hour and soar to heights of 8,000 feet.
You see, WWN didn't report they got fired and replaced by chimps because the story was a joke and false – they said the hosts didn't give the proper "credit for the story" to WWN.
The author also is up on the rest of the cable news world. "Ailes wanted to hire Rick Sanchez to host Fox & Friends, but realized that Sanchez doesn't have friends anymore," wrote Lake.
Don't worry about the the now former hosts of F&F though (as if you were worried, ok this is getting ridiculous). "Kilmeade, Doocy and Carlson are still hosting their show in the backyard of Doocy's New Jersey home," the article says.
How can we make this more meta? Maybe if Fox & Friends starts their show tomorrow with a bunch of chimps sitting in.
—–
» Follow Steve Krakauer on Twitter
Have a tip we should know? tips@mediaite.com