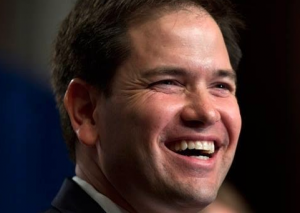 When we covered Marco Rubio's late-night Twitter rant-a-thon about whether to do legs or chest at the gym a few days ago, we erred on the side of kindness and titled it "Rubio Trashes WaPo Report on Twitter Over 'Unnamed Sources' Talking About His Plans." After all, the man only recently dropped his presidential campaign after years of having his ego stroked with talk of how he was the "savior" of the Republican party. The party he was supposed to save now belong to a reality television star. Let the guy have his Twitter rant, you know?
The thing is, though, that in the six days since he started tweeting regularly, there have been a few other red flags. If things go on this way, he could be reaching Kanye West levels of Twitter weirdness by next week.
Look!
Here is a serious reading picture that he definitely had to ask a staffer to take and is absolutely staged:
In between meetings, catching up on #inthearena by @PeteHegseth, a compelling book by a great American patriot pic.twitter.com/GpR17eS8SD

— Marco Rubio (@marcorubio) May 12, 2016
His anti-media missives didn't start with WaPo, either:
Agreed 2 bring @TodayShow on tour of HUD project run by slumlord. They turn it into campaign piece. https://t.co/CjWJ1SaZNm via @todayshow

— Marco Rubio (@marcorubio) May 14, 2016
Owner of #EurekaGardens has similar slum like conditions in projects across multiple states.But @TodayShow wants to talk about polls & Trump

— Marco Rubio (@marcorubio) May 14, 2016
Invited @TodayShow b/c told us they would focus on terrible living conditions at HUD projects like this.They turned into political piece.

— Marco Rubio (@marcorubio) May 14, 2016
Credit to @wjxt4 & @WJXTLynnsey.She uncovered this story.@TodayShow this is real story u should do : https://t.co/S9awOVk1NX #EurekaGardens

— Marco Rubio (@marcorubio) May 14, 2016
He's acting like Donald Trump! He keeps lashing out at media agencies and going on tears that just won't quit. You can't pretend this tweet doesn't remind you of the presumed GOP nominee. You could copy and paste it to his account and no one would notice.
Incompetent and corrupt @NicolasMaduro should resign already.He has driven a once prosperous #Venezuela into chaos. https://t.co/U6UzrYJXnW

— Marco Rubio (@marcorubio) May 15, 2016
This next one was the tweet that made me take notice of Rubio's new Twitter antics. I replied accordingly:
@marcorubio I'm so sorry this is happening to you

— lin z l f son (@ellefs0n) May 16, 2016
This one is my absolute favorite because of the sarcasm and unexpectedly casual tone:
I have only said like 10000 times I will be a private citizen in January.

— Marco Rubio (@marcorubio) May 17, 2016
Here he is defending his position on disco:
@LJSelsky @CNN I am not a "Disco Foe", but we need to learn from history otherwise we are condemned to repeat it

— Marco Rubio (@marcorubio) May 17, 2016
He engaged with Marc Caputo after calling him out for getting so many details about his life and plans wrong. The engagement was about fishing:
@MarcACaputo @TheFix but easier to catch night fishing because they glow in dark.

— Marco Rubio (@marcorubio) May 17, 2016
He added his $0.02 to the news that Twitter will no longer include link and photos in the 140-character limit:
This is a very promising development. Just in time for my return to Twitter. https://t.co/nj6gbFJDkz

— Marco Rubio (@marcorubio) May 17, 2016
Today, we were treated to a six-tweet denouncement of an ostensibly Christian housing organization. The word "slumlords" was used.
In the age of the social media, everyone is their own PR person. We have the Kardashians to thank for that and Donald Trump to look to as an example of that method followed to its logical conclusion. There is a lot to be said for those who manage their own accounts and engage with fans online. Still, this o-to-100 approach, with all its typos and ill-advised sarcasm, cannot possibly be the best way to jump back into the online arena.
What do you think? Is Rubio okay? Does he need a Twitter intervention?
[image via the Twitter, of course]
For more from Lindsey, go to Twitter and Facebook.
Have a tip we should know? tips@mediaite.com