When Michael Steele Reformed The Nomination Process, One Of His 'Goals' Was A Brokered Convention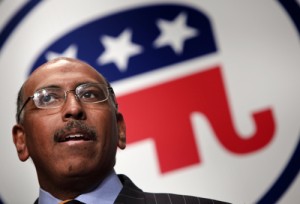 The phrase "brokered convention" only seems to elicit extreme responses about its likelihood. It turns out Michael Steele — the former RNC chairman who pushed through significant changes in the presidential nomination process — has been rooting for brokered conventions all along. In fact, he told Mother Jones, "that was one of my goals" when reforming the nomination system.
Steele's had quite a hand shaping this Republican primary race, and Mother Jones notes his rules could "yield an outcome in which Romney finishes with the most delegates, but not an outright majority, necessitating a brokered convention." From Mother Jones:
"I wanted a brokered convention," Steele tells me. "That was one of my goals." Why in the world would a party chairman desire apparent turmoil? To create excitement and shake up the party, Steele explains. So far this year, he has indeed succeeded in one regard: The Republican race remains unsettled. And that's unsettling many within the party's upper ranks.
But why, you may be wondering, did some Republicans feel the need to mix things up? Cue the familiar comparison to 2008 Democratic primary race. Steele and other Republicans saw "that the Democratic base was energized, following the exciting, dramatic, and protracted nomination showdown between Barack Obama and Hillary Clinton."
And they were jealous.
Steele wanted to escape "the tedium of 2008." He said, "I was surprised at how many people liked the idea of creating tension within the process, so that an underdog like Rick Santorum could have as much bite or bark as Mitt Romney."
Rather ironically, "in what now seems a profound miscalculation, the Romney camp backed Steele's reforms—and helped create the monster that now threatens him and the party."
More recently, Mitt Romney has repeatedly stated the idea of a brokered convention is absurd. Whether we'll get one, we don't know. But Steele certainly succeeded in shaking things up.
Have a tip we should know? tips@mediaite.com