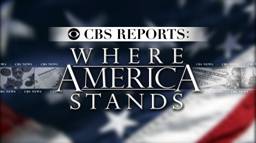 What do Americans think about the way the government is protecting them from future terrorist attacks? Or their financial security? Or their own experience in the job market?
CBS News explores these and other issues in a new multi-platform series, "Where America Stands," beginning the first week in January. CBS News & Sports President Sean McManus tells Mediaite why, how and more.
The series is part of the newly revamped franchise "CBS Reports," which began this year with the series "Children of the Recession." "It says something about the importance of the project, and says something about scope and the size of the series," McManus tells Mediaite. "We use the phrase very sparingly, and only when we think it deserves it."
One thing stressed in the press release last month and by McManus in our interview is the multi-platform aspect of "Where America Stands" – this isn't just going to appear on all CBS News programs (Evening News, Early Show, Face the Nation, Sunday Morning), but it will have a major presence online as well. "It is very important that, as audiences decline for broadcast news coverage, we do whatever we can to drive new audiences who might find a series like this interesting," said McManus.
McManus points to other successful CBS News web products, like the interview show, "@KatieCouric," as part of a larger strategy at the network. "It is part of an ongoing effort to use all our platforms as aggressively as we can," he said.
McManus says the "Where America Stands" series will last well beyond January, with nine issues currently being discussed online. While the comments currently on the site aren't entirely hopeful for the series – many are anticipating Obama-friendly reporting – they come from those who likely have preconceived notions about the network from the National Guard story to conservatives who were turned off from the Couric/Palin interviews. But an objective, comprehensive look at each issue going into the next decade, including how well the Obama administration deals with them, could be a big success.
We also asked McManus about the changes coming at ABC News – as Charlie Gibson retires, Diane Sawyer takes over and a shuffling at GMA comes soon as well.
"We're excited about any time there's a change," said McManus. "It really does motivate people to sample all the broadcasts we're doing right now, particularly The Early Show, and we hope when people sample us they like what they see. Evening News has developed into an absolutely terrific and award-winning broadcast, and I have to believe that because there's change at ABC people will reevaluate their choices."
—–
» Follow Steve Krakauer on Twitter
Have a tip we should know? tips@mediaite.com