I'm going out on a limb here, but I think Donald Trump really, really likes Sharpies.
On Thursday, the GOP presidential candidate and media favorite pledged not to attempt a third-party run should the Republican Party nominate someone else for its 2016 ticket. Trump, along with RNC chairman Reince Priebus, held a press conference in New York City to commemorate the occasion.
I wasn't covering the story at the time, but when I watched the footage, I noticed something. Trump signed the pledge with what appeared to be a Sharpie pen. Son Eric Trump caught the actual signing on camera and immediately posted it to social media:
Behind the scenes picture of my father signing the "pledge" — I am very proud of him! @RealDonaldTrump pic.twitter.com/VD6McLebvD

— Eric Trump (@EricTrump) September 3, 2015
There. In Trump's right hand. What is that? Is that a really expensive pen that could probably cover a year's worth of a family of five's average household bills, or is it a black permanent marker? I suspect it's the latter, especially after reviewing the pledge itself:
"Okay," you're probably thinking. "So what? The man likes to write big and bold, just like he is!"
Consider yesterday's brief bout of verbal sparring between Trump and ex-professional basketball player Kareem Abdul-Jabbar. After the presidential hopeful read the NBA star turned political commentator's WaPo op-ed ridiculing his treatment of the press, he sent him a few notes. Like the pledge, Trump's handwritten comments were accomplished with thick, black, ALL CAPS lettering. In other words, a Sharpie.
I couldn't help but wonder if Trump preferred Sharpies to other means of composition, and whether or not his writings were generally crafted in a similar manner. Turns out, they are. For not only was Trump's handwritten response to Abdul-Jabbar not the first time that has ever happened, but his Instagram is littered with examples of prolific Sharpie use.
When Mediaite's sister site Styleite reported on Trump's possibly having a toupée (as evidenced by a TV commercial) in 2010, the Donald sent them a handwritten response a few weeks later. Like Adbul-Jabbar's op-ed, he printed out the otherwise digital blog post, wrote his comments in Sharpie, and mailed them to the author: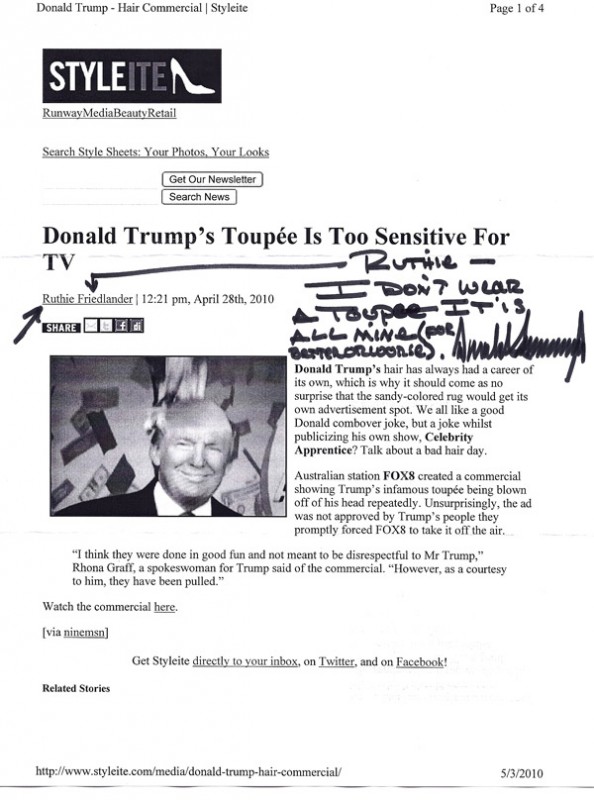 Almost a year later, Trump did the same thing to Vanity Fair. Yet these are just a few examples of the pre-Twitter era in which Trump had to get back at journalists and bloggers on paper. His retweets have effectively replaced this aspect of his Sharpie practice, but the pen lives on — especially on Instagram.
That's because the GOP front-runner loves to share just about every official document, press release, and dinner napkin-idea on his Instagram page, and almost all of them include his signature Sharpie-aided handwriting.
There's his letter to Randy Falco, Univision CEO and president, back in June:
His official filing with the Federal Election Commission:
His visit to the Facebook offices:
The list goes on, but you get the point. The thick, black, mostly illegible point.
[Image via screengrab]
— —
>> Follow Andrew Husband (@AndrewHusband) on Twitter
This is an opinion piece. The views expressed in this article are those of just the author.