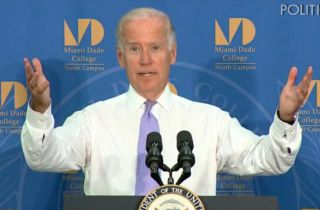 Amid mounting speculation that he could dramatically shake up the 2016 presidential election by jumping into the race for the Democratic nomination, Vice President Joe Biden sounded a lot like a presidential candidate during an appearance Thursday morning with Jewish community leaders and activists in Florida.
Biden, who at the meeting defended the Iran nuclear agreement, touted the Obama administration's support, as well as his personal backing, of Israel. "I take a back seat to no one," he said of his support for Israel.
The vice president echoed President Barack Obama's earlier comments that the U.S. would be doing a disservice to Israel — or any of its allies — if it blindly agreed with its leaders on every single issue. Israeli Prime Minister Benjamin Netanyahu is a vocal opponent of the nuclear deal that was agreed to earlier this summer among Iran, the U.S. and five other world powers.
"I don't blame you if you don't agree with my view, but that's the only thing I don't have a lot of time for, is the idea we can't do business with bad guys," Biden said at the gathering where Democratic National Committee Chair Debbie Wasserman Schultz also spoke.
The Jewish Florida representative represents a heavily Jewish congressional district, and is thus far undecided on the Iran nuclear deal. Obama this week secured the Senate votes needed to sustain a veto of any changes to the agreement, however prominent Democratic senators such as Chuck Schumer of New York and Robert Menendez of New Jersey have sided with the GOP in opposing it.
Perhaps the most brazen sign that the vice president is leaning toward an Oval Office run was that he laid out his foreign policy experience under President Obama, with what many perceived as a thinly-veiled jab at the Democratic frontrunner, Hillary Clinton, who served as Obama's secretary of state from 2009 to 2013.
"I've traveled, as of today, 992,894 miles for the president," the former six-term senator said. "I've met with virtually every major leader in the world. I know these guys. I know them better than anybody in the administration because I've been hanging around so long."
Speaking of his conversations with world leaders, Biden said they often doubt him when he is pitching U.S. policies to them because they question whether the U.S. can "deliver" on the initiatives when it has a "dysfunctional" government.
At a separate speech on Wednesday at Miami Dade College, Biden joked that his appearance attracted media attention because of their interest in the substance of his address: college affordability.
"And by the way, it's amazing how good the school is. Look at all the press you've attracted," Biden said with a laugh. "Their interest in community colleges impressed me greatly, and I hope that's what they're going to write about."
Watch that video below, via Politico:
[Image via screengrab / Politico]
— —
>>Follow Andrew Desiderio (@desiderioDC) on Twitter
Have a tip we should know? [email protected]