WH Confirms to Mediaite: Lockerbie Letter Had Input From Flight 103 Families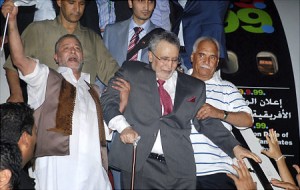 After initial reporting on US diplomat Richard LeBaron's letter to the Scottish government regarding the release of convicted Pan-Am Flight 103 bomber Abdel Basset Ali al-Megrahi turned out to be utterly false, a fallback criticism emerged. Since administration opponents could no longer claim they favored al-Megrahi's release, they say the administration shouldn't have given the Scots any choice but to leave him in a Scottish prison. At yesterday's briefing, I asked Robert Gibbs if the families of the Flight 103 victims were consulted in preparing the letter.
While Gibbs didn't have an answer to my specific question, he did take the opportunity to clarify, once more, the administration's position on al-Megrahi's release:
Today, however, a senior Obama administration official has confirmed that the priorities enumerated in the Lockerbie letter were arrived at after continuous consultation with the victim's families, mainly through the Department of Justice. The official also confirmed that a copy of the letter was sent to Frank Duggan, president of Victims of Pan Am Flight 103, by Obama counterterrorism adviser John Brennan. To clarify, Brennan sent the letter to Duggan earlier this week, following the uproar over the Times story.
"Some of the families wanted him to rot in Scottish prison," the official said, "and they didn't want him released for treatment in Scotland unless he was at death's door, but the last thing they wanted was for (al-Megrahi) to return to Libya to be treated like a hero."
As Gibbs noted, this was the order of priorities given in LeBaron's letter, wherein al-Megrahi's release under any circumstances was opposed, but if (as Scottish law demands) he was to be released on "compassionate grounds," the letter demanded an independent medical confirmation of his prognosis. Finally, if Scotland felt it had to release al-Megrahi, the letter urged them not to let him return to Libya, to a hero's welcome.
This kind of criticism cuts both ways. Since the Scottish government chose to do none of what the letter asked, it's just as likely that, had LeBaron sent the "My way or the highway" letter instead, administration critics would now be asking why they didn't include a fallback option. In the final analysis, it's hard to argue that the administration wasn't better served by listening to the victims' families, rather than their possible critics.
Since publication, the following clarification was added to this article: " To clarify, Brennan sent the letter to Duggan earlier this week, following the uproar over the Times story."
Have a tip we should know? tips@mediaite.com