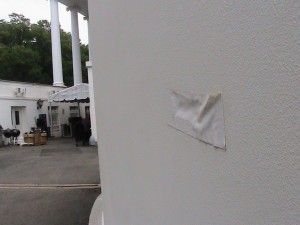 Just a few quick observations from my time in DC today.
In between today's East Room remarks by President Obama and the daily briefing, I spotted something amusingly incongruous as I copped a smoke outside the briefing room. Perhaps confirming the cliche´ about the versatility of duct tape, I noticed that someone had temporarily fixed a hole in the side of the briefing room with what actually appeared to be gaffer's tape. 
It was hotter than the towel warmer in Hell's sauna in DC today, so I was bummed to hear that the vending machine was empty again.  Luckily, the guy showed up to fill it. Unluckily, that meant that all the drinks would be warm. Silver lining: he promises to try and get Diet Dr. Pepper for the machine.
I took my first nap in the Brady Briefing Room today, a function of having slept 2 and a half fitful hours. Luckily, CNSNews' Fred Lucas woke me up minutes before the briefing was scheduled to start, and no one had put my hand in a bowl of warm water.
Another first: a Secret Service agent shooed me away from my usual smoking spot, saying we weren't  to smoke "near the residence." Anything to keep the Commander in Chief on the wagon.
I'm not sure if this is the first time, but it is the first time I've seen anyone sit in Helen Thomas' seat. Hard to believe it was only a month ago that she retired: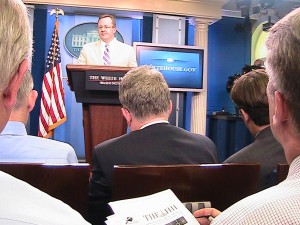 Remember the Teleprompter meme? As I waited for the President's east Room appearance today, I caught a picture that would have spawned an awesome right-wing myth. "White House Employs Personal Teleprompter Polisher!!"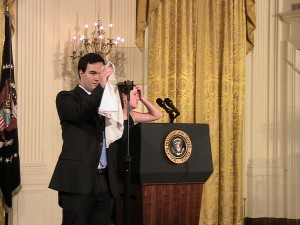 As I entered a pizzeria this afternoon to meet Malik Zulu Shabazz for our interview, I was treated to a small piece of instant karma. I overheard one woman telling another, "It would be nice if these people spoke English!" just as she pushed, and faceplanted, on a door that was plainly marked, in English, "Pull."
Have a tip we should know? tips@mediaite.com