Exclusive Full Interview: New Black Panther Party Chairman Malik Zulu Shabazz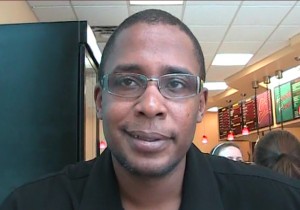 A former Department of Justice lawyer says that Barack Obama's DOJ dropped voter intimidation charges against 3 of 4 New Black Panther Party defendants because they don't care about the civil rights of white people. The DOJ says the charges were unsupported by the facts and the law. Fox News makes it a huge story. In a gripping exclusive interview, New Black Panther Chairman Malik Zulu Shabazz gives his side of the story, and answers charges that he heads an anti-Semitic, anti-white hate group.
First, some background. The New Black Panthers are not affiliated with the original Black Panther Party in any way. In fact, leaders of the original Panthers have denounced the NBPP, even suing them for use of the name, and stating that the New Black Panthers operate on "hatred of white people." The NBPP has been designated a "hate group" by the Southern Poverty Law Center, and the Anti-Defamation League.
All of this makes the NBPP a perfect bogeyman for those who would try to stoke fear of a black President in mainstream Americans, a tactic that has been tried before, and failed. During the 2008 presidential campaign, opponents of then-Senator Barack Obama repeatedly tried to conflate him with the NBPP by virtue of a web page in an open Barack Obama forum, one that was subsequently removed.
When the Philadelphia incident occurred on Election Day, the McCain campaign tried to exploit what everyone agrees was an isolated incident while the polls were still open. What would send voters to the polls quicker than the revelation that an Obama victory would result in a New Black Panther police state?
Perhaps the third time is the charm. The facts are all in the Obama administration's favor (I spoke with Shabazz days after the incident, and he denounced the action at the polling place), but when did that ever make a difference? The idea that whites are being persecuted is an irresistible notion to many Americans, an absolution from the need to take the full measure of our nation's complicated racial history.
Given recent events, including several ominous pronouncements from this very interview, some may ask "Why shouldn't we be afraid?" It's a good question. While some conservatives seem invested in conjuring a Black Menace, I would point out that, to a certain degree, they share common cause with the New Black Panther Party. As you'll see in our interview, Chairman Shabazz seems, at times, to happily play the part of Black Menace, in service to Black Self-Defense. A little fear, and a lot of publicity, serve his interests almost as well as it serves Fox News'.
But, as Shabazz says in our interview, his organization is very poorly-funded. He wouldn't specify membership numbers, but the party's absence from the cultural landscape,  aside from the above-mentioned artificial spikes, is instructive. So is the fact that Shabazz is scheduled to appear on Fox this afternoon, with Megyn Kelly.
Honestly, this is a win for everyone involved, except for the audience, who are poorly served by this hysteria. For the media, this is perfect summer "Shark Week" fodder. Glenn Beck's "Restoring Honor" rally just got a whole lot more interesting, for example.
I sought an interview with Malik Zulu Shabazz to give him an opportunity to tell his side of the story, and to answer criticisms of him and his organization. Although I challenged him on many issues, the purpose of this interview was not to debate him, nor was it to make you love/hate the NBPP, but rather, to understand it, to extract a fair picture of the New Black Panther Party, and of its Chairman. I think the interview speaks for itself.
I would also note that Malik Shabazz was an excellent interview subject. When I pitched the interview to him, I stressed that I wanted to give him a chance to tell his side of the story. I realized, during our interview, that I may have given the impression that this would be a puff piece, which is why I prefaced some of the tougher questions. I believe in being up front with people, and I didn't want him to feel that he had been ambushed, or sandbagged. To his credit, he took no offense, and responded at length to all of my questions.

Note – following the two embedded videos below is a guide for the topics addressed in both segments.
Part 1

Part 2

Part 1:
I begin by asking Malik Shabazz to recount the Philadelphia incident.
1:40 "What did you think of what King Samir did (on election Day)?"
2:31 "King Samir is back in our organization, and in good standing within our organization."
4:20 Shabazz says that no voters were intimidated, I offer examples of the government's witnesses.
6:00 Why did the NBPP have people out at the polls in 2008?
Just before the 8 minute mark, watch the guy in the white shirt. I spent a good part of the rest of the interview trying not to laugh at this.
8:56 Shabazz responds to the allegation that charges were dismissed because the Obama administration doesn't care about the civil rights of white voters. He also discusses the Anthony Hill and Theresa Ardoin murders, which were each followed by a post-mortem dragging from a pickup truck.
12:15 We discuss the controversy that arose during the 2008 campaign, centered around a NBPP member's profile on Barack Obama's campaign forum.
13:20 I ask Malik about the NBPP's designation as a hate group by the Southern Poverty Law Center and the Anti-Defamation League, and the denunciation by original Black Panthers. He talks about modern black leaders who he says support the NBPP.
Part 2:
I ask Shabazz to explain several inflammatory quotes by himself and other NBPP leaders.
:58 "In what context is 'hook-nosed, bagel-eating Jew' not messed up?"
3:44 I ask Malik if he would extend the same forgiveness for hateful comments to a white person (my Dad) who lost his business during race riots.
5:40 The "killing white babies" segment.
7:20 "I wouldn't focus on the babies, I'd focus on the police…"
9:10 We agree not to kill each other.
10:18 I ask what he would like conservatives to know about the NBPP.
14:53 How large is your organization?
16:18 Glenn Beck rally
18:18 What's the financial status of the NBPP?
20:00 Can white people join the NBPP?
Have a tip we should know? tips@mediaite.com