White House Press Corps Expresses 'Extreme Frustration' With 'Absolutely No Access' To Obama During Vacation
WH Press Corps: 'Extreme Frustration' With 'Absolutely No Access' To Obama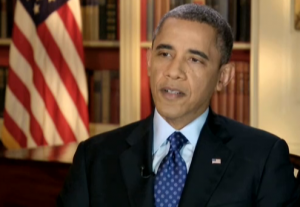 President Obama was vacationing in Florida this weekend, apparently playing some golf with Tiger Woods, and the White House press corps wasn't too happy about it. Because, they said, they had "absolutely no access" to the president (a concern similar to one they've cited before.)
In a statement on Sunday, Fox News correspondent and White House Correspondents Association president Ed Henry cited the press' "frustration" and pointed to the goal of greater transparency.
"Speaking on behalf of the White House Correspondents Association, I can say a broad cross section of our members from print, radio, online and TV have today expressed extreme frustration to me about having absolutely no access to the President of the United States this entire weekend," Henry said in a statement, relayed in a White House pool report. "There is a very simple but important principle we will continue to fight for today and in the days ahead: transparency."
For their part, the White House responded, asserting that there was nothing new or unusual about the amount of access given to the press.
Principal Deputy Press Secretary Josh Earnest said, per the report:
"The press access granted by the White House today is entirely consistent with the press access offered for previous presidential golf outings," Earnest said. "It's also consistent with the press access promised to the White House Press Corps prior to arrival in Florida on Friday evening."
Obama spent the weekend at a golf and yacht club in Florida, playing golf with Tiger Woods for the first time. Much of the information about the weekend has been coming from Tim Rosaforte of Golf Digest.
Have a tip we should know? tips@mediaite.com