White House Promotes Story of November Enrollment 'Surge' in State Obamacare Exchanges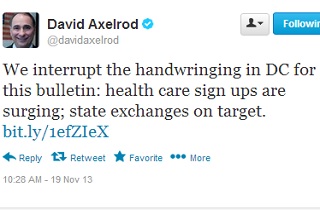 As President Obama noted in his press conference last week, the mainstream media is reluctant to report any good news (let alone true news) about the rollout of the Affordable Care Act, so the White House is taking matters into its own hands. On Tuesday morning, several administration Twitter feeds, including the official White House Twitter account, Press Secretary Jay Carney, and former senior adviser David Axelrod, tweeted a link to a Los Angeles Times article that details a "surge" in enrollments in some states for the month of November.
From The LA Times' Noam Levey:
A number of states that use their own systems, including California, are on track to hit enrollment targets for 2014 because of a sharp increase in November, according to state officials.

"What we are seeing is incredible momentum," said Peter Lee, director of Covered California, the nation's largest state insurance marketplace, which accounted for a third of all enrollments nationally in October. California — which enrolled about 31,000 people in health plans last month — nearly doubled that in the first two weeks of this month.

Several other states, including Connecticut and Kentucky, are outpacing their enrollment estimates, even as states that depend on the federal website lag far behind. In Minnesota, enrollment in the second half of October ran at triple the rate of the first half, officials said. Washington state is also on track to easily exceed its October enrollment figure, officials said.
After the Department of Health and Human Services release of October's Obamacare enrollment figures failed to stem the tide of negative reporting, the White House clearly sees this LA Times report as a potential light at the end of the tunnel. Former White House senior adviser and current MSNBC analyst David Axelrod tweeted the link with this sentiment:
We interrupt the handwringing in DC for this bulletin: health care sign ups are surging; state exchanges on target.
The news is encouraging to supporters of health care reform, but the rubber will meet the road when HHS releases enrollment figures for November. Of the 106,000 October enrollments reported by HHS, only about a quarter of them came from the federal exchanges. If the burgeoning website fixes result in enrollment increases similar to what the states are seeing so far in November, that could quell some of the political fallout from the rollout. Even if it's not enough to turn the tide of media coverage, such a bump in enrollment could at least calm panicky Democrats.
Have a tip we should know? [email protected]