White House Says Decisions To Purchase $70,000 Worth Of Obama Books Were "Embassy Based"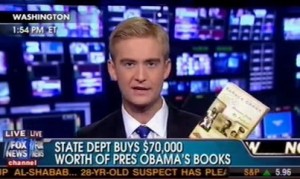 On Tuesday, The Washington Times reported that State Dept. records show US embassies around the world have purchased about $70,000 copies of President Obama's books, Dreams From My Father and The Audacity of Hope. over the course of several years, to be given as gifts and to stock libraries. During a gaggle aboard Air Force One Wednesday afternoon, Press Secretary Jay Carney told reporters that "It was an embassy-based decision" to buy those books.

According to the Washington Times, several embassies around the world made purchases, over the course of several years, of quantities of books written by the President. The report doesn't list the number of copies, but at around $20 apiece, you're looking at around 3,500 copies. The Times report also pointed out that "There's no indication the White House knew about the purchases, which overall represent just a fraction of the nearly quarter-million dollars Mr. Obama donated to charities last year and his more than $1.7 million in overall income."
Also from the Times report:
Pete Sepp, vice president of the National Taxpayers Union, said there could be value in distributing books about American politics and the people who make up political institutions.

"Compared to big-ticket items like embassy construction, buying books may not show up as a huge warning on taxpayers' radar screens, but there is always room for improvement and making sure programs like this are serving a good, intended purpose," he said.
According to CBS News' Mark Knoller, Jay Carney "told reporters on AF-1 that US Embassies abroad decided that giving the books would help advance American foreign policy interests," and that ""It was an embassy-based decision."
Fox News reported on the story earlier, before Carney's gaggle, and pointed to a statement by a State Department spokesman that, like Carney, noted that these decisions were made by the embassies themselves, based on interest from locals, and that the White House had nothing to do with them.
Here's the report, from Fox News' America's Newsroom:
Have a tip we should know? tips@mediaite.com