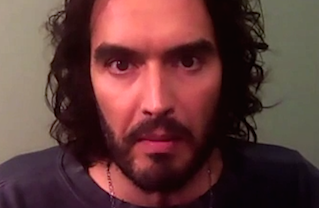 In recent weeks actor-turned-activist Russell Brand has found himself feuding with Sean Hannity, Donald Trump and Piers Morgan. So when he appeared on "The Young Turks" with Cenk Uygur this week, the host asked him which of those three men he despises most.
"Oh, that's good, isn't it?" Brand began, at first relishing the difficult decision. He quickly eliminated Morgan, since they hail from the same home country and he "ain't that bad" on a personal level. Unable to pick between Trump and Hannity, Brand decided to take the high road.
"You know what? They're all human beings and they're all alright," he said, adding that for them the whole thing is a "media game" and that deep down they are all probably "decent human beings."
RELATED: WATCH: Russell Brand Gets Kicked Out of Fox News Headquarters
"This is more important than daft individuals," Brand continued, veering away from the personal attacks against Fox News personalities have become a staple of his YouTube show "The Trews." He cited income inequality and climate change as larger issues that should concern him and everyone else more than what certain pundits are saying.
"We are living in the face of massive corruption," Brand said. "And we ain't got time to worry about
Sean Hannity, Donald Trump or anybody else — or even me. The ideas are the ideas, the truth is the truth, and that's what's important."
Pressed by Uygur to comment specifically on recent criticism from Piers Morgan, Brand again steered the conversation back to the bigger issues at hand. "Don't worry about me, don't worry about Piers Morgan, worry about the truth," he said.
Perhaps this means he will be putting less of his focus on these particular "daft individuals" moving forward?
Watch video below, via "The Young Turks":
[Photo via screengrab]
— —
>> Follow Matt Wilstein (@TheMattWilstein) on Twitter
Have a tip we should know? tips@mediaite.com