Who Stopped Obama's Hawaii Motorcade? Dude Wearing 'Laid Back, Easy Goin' Shirt With a Drone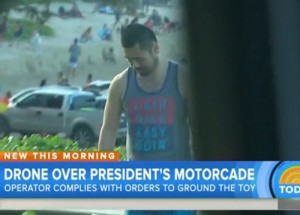 While vacationing with his family in Hawaii, President Barack Obama's motorcade was brought to a halt on Monday. Why? No, it wasn't a threat by terrorists, right-wing crazies or rabid fans, but a personal drone.
According to NBC News, Obama had just finished playing golf and was heading back to his family's vacation home when his U.S. Secret Service detail noticed the low-flying drone near the motorcade:
The Secret Service quickly intervened and said the pilot of the small, quadcopter-style drone was "completely unaware" that Obama's motorcade would be traveling through the area on Oahu.

The man "immediately complied with law enforcement requests to cease and desist," the statement added. No charges were filed and the motorcade did not stop or slow down because of the incident.
It was just some guy with a personal drone, probably snooping on beach goers with its attached camera's advanced zoom capabilities. Besides, would someone wearing a muscle t-shirt with the words "Laid Back, Easy Goin'" branded on it mean any ill will towards the president?
Trigger-happy survivalists hell-bent on equipping every man, woman and child in America with a gun would probably say yes. But me? I'm going to say no, the dude with the "Laid Back, Easy Goin'" shirt meant no harm towards the president and his motorcade.
He's like Hawaii's Matthew McConaughey, though more of the Dazed and Confused McConaughey than the Mud McConaughey. He's not brandishing any weapons, hiding away from society because of some crime he committed (or is about to commit). No, this guy is just livin', man. L-I-V-I-N.
Check out the clip above, via NBC News.
[h/t NBC News]
[Image via screengrab]
— —
>> Follow Andrew Husband (@AndrewHusband) on Twitter
Have a tip we should know? tips@mediaite.com