Who's Leading in the Newest Head-to-Head Poll Following the Democratic Convention?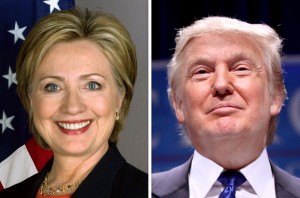 Last week, newly-crowned Republican party nominee Donald Trump earned a nice bump for himself in nation-wide polls following the GOP convention in Cleveland. Speaking with a tone that was at times equal parts harsh and — in the opinions of many — fear-mongering, Trump's candidacy was boosted to 6 points over Clinton according to a CNN/ORC poll released last week. The margins of error for various polls revealed a race that was essentially tied or slightly favoring Trump following the events in Cleveland.
But now that the Democrats have had their turn to steal a week's worth of headlines and make their case to the American people, the first polling data is now out. And as expected, the former Secretary of State Hillary Clinton has regained her lead.
According to CBS News, 46% of nationwide voters say they will vote for Clinton on Election Day, compared to just 39% for Donald Trump. According to the same poll, 90% of Trump and Clinton supporters are firm in their decisions, noting that their votes will not change between now and November.
From CBS News:
In the wake of the Democratic convention, positive views of Hillary Clinton have risen five points among registered voters, from 31 percent a week ago to 36 percent today. Unfavorable views of Hillary Clinton have dropped six points: from 56 percent to 50 percent.

Over half of voters continue to hold an unfavorable opinion of Donald Trump. Although Trump received a slight bounce in his favorable rating after the Republican Convention, now just 31 percent view him favorably – similar to what was recorded before his party's convention.
The 4% bounce enjoyed by Clinton following her convention is average when compared to the recent history of Democrats. While some — like her husband Bill Clinton in 1992 — rocketed out of the convention with a double-digit increase, others such as John Kerry in 2004 and George McGovern in 1972 did not see their share of the vote change at all.
At this juncture, Clinton still maintains her lead when former New Mexico governor and Libertarian party candidate Gary Johnson in included. Johnson will need to poll at 15% to be eligible for the debate stage; according to the latest Real Clear Politics data, he currently sits at 7.5%.
Have a tip we should know? tips@mediaite.com