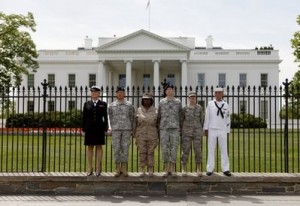 On Saturday, December 18, 2010, the US Senate passed the Don't Ask, Don't Tell Repeal Act of 2010 by a 65-31 margin, clearing the way for President Obama to fulfill a promise that many have seen as too long in coming. While the White House has maintained all along that a legislative repeal was the only "durable solution," many, myself included, felt that the President should have put a moratorium on DADT discharges until such a repeal could be enacted.
Had he done so, however, it's very likely that the President would not, now, be poised to sign that legislative repeal into law.

The first time I asked Press Secretary Robert Gibbs about DADT was way back in May of 2009, and like many opponents of the Clinton-era compromise on gays and lesbians serving in the military, felt that a decisive act by the President would lead to a quicker repeal of the law. Framing DADT as a national security risk, I asked Gibbs why the President would block the release of detainee abuse photos, but not the discharges of otherwise qualified gay soldiers. My fellow reporters and I would come to know Gibbs' response nearly by heart, as he would repeat it (with only minor variations) again and again in the following weeks and months:
At the time, I predicted that that legislative process would drag out well into the midterm elections (which it did), making the repeal that much more difficult. However, along the way, a strong consensus began to build within the military, and with the American public. More and more, opposition to the repeal began to look senseless and desperate.
Had the President decided to take unilateral action, spurred by protests and relentless pressure from the press, such an action would have been seen, by many, as an overreach. Others would have seized upon it simply as a way to score political points against him. The issue would have become Obama, not the DADT repeal.
By denying the opposition a nucleus around which to condense, President Obama created the conditions that allowed the repeal of DADT to grow.
That is not to say that people like Lt. Dan Choi, or The Advocate's Kerry Eleveld, or any of the many others who put pressure on the administration, were wrong to do so. Activism, advocacy, and consistent questioning by the mainstream press were instrumental in building public awareness and support for the repeal of DADT, and they will continue to be instrumental in gaining equality for all Americans.
Have a tip we should know? tips@mediaite.com