Report: Momentum Building For Lame-Duck Session Passing Of 9/11 First Responders Bill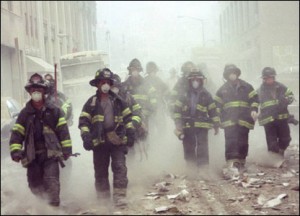 Though Senator Jon Kyl remains skeptical, the Associated Press is reporting that legislators are optimistic that a bill designed to offer increased health care for 9/11 First Responders has enough support to pass before the lame-duck session ends. In a post on the Daily Kos, NY Senator Kirsten Gillibrand suggested that the GOP had been shamed into support by cutting commentary from Jon Stewart and Shepard Smith.
The AP reports:
Backers of a bill in Congress to help people who became sick after working in the World Trade Center dust created by the Sept. 11 attacks said Sunday they're optimistic the Senate will approve the measure before the lame-duck session ends.

"We are on the verge of a Christmas miracle," said Sen. Kirsten Gillibrand, D-N.Y.

Gillibrand and Sen. Chuck Schumer, D-N.Y., are offering a less-costly alternative to the original bill to aid 9/11 responders and survivors, saying that they believe it will gain needed support from the GOP. They said the Senate was expected to consider the new bill once they finish dealing with the U.S.-Russia treaty on nuclear weapons.

"Barring a setback, we believe we are on the path to victory by the end of the week," Schumer said.

To raise pressure for the bill, a group of 9/11 responders plans to gather outside the White House on Tuesday to urge President Obama to get involved in the fight to pass it.
In a post published this weekend on the left-of-center website, Senator Gilibrand (D-NY) championed increased media coverage of the First Responder's bill, particularly citing The Daily Show episode dedicated to this issue that aired last Thursday, and a Shep Smith commentary that aired the following day. Gilibrand wrote:
The media is more interested in this bill than they've ever been before, thanks in large part to Jon Stewart's devoting an entire episode of The Daily Show to the bill last week. If you haven't yet, you must see his interview with several of the 9/11 first responders, who are ill and need care.

I was thrilled that Jon put Governor Mike Huckabee on the spot and secured his support for the bill, which followed on the heels of Mayor Rudy Giuliani's endorsement of the legislation. Bipartisan support for the bill is growing by the day.

The bill has since been covered on ABC Nightly News and has gotten some excellent coverage on Fox News. I appeared on Fox the other day to discuss my efforts to pass this bill and then was very moved to see Shepard Smith express his own deep frustration with our inability to deliver health care for these heroes.
The 9/11 First Responders bill is named for James Zadroga, a police detective who died at age 34. His supporters say he died from respiratory disease contracted at ground zero, but New York City's medical examiner said Zadroga's lung condition was caused by prescription drug abuse.
Have a tip we should know? tips@mediaite.com