Will Occupy Wall Streeters Leave Zuccotti Park Peacefully? Watch The Live Stream Now (UPDATE)
(Photo: Robert Stolarik, New York Times)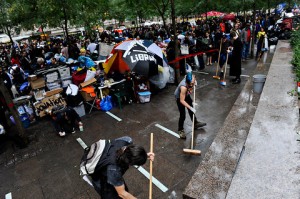 UPDATE: According to the Associated Press, Brookfield has postponed the cleaning. So the Live Steam feed can now be viewed as a victory celebration for the OWS crowd.
For the last four months weeks, Occupy Wall Street protesters in New York City have made Zuccotti Park their home. But Mayor Michael Bloomberg and the owner of the property, Brookfield Office Properties, have told the Occupy Wall Street crowd that they need to leave so the park can be cleaned. According to park officials, the area is usually cleaned every day, but because the protesters have been camping out there, it hasn't been touched in four weeks.
The plan is to clean the park one section at a time, so 1/3 of the protesters have to be cleared out. After the cleaning, displaced protesters have been assured by NYC police commissioner Raymond Kelly they can return — with a caveat.
"They won't be able to bring back the gear, the equipment, sleeping bags," Kelly told the Christian Science Monitor. "That sort of thing will not be able to be brought back into the park."
This prompted many of the protesters to rally up and make calls for solidarity on social networks. Many of them even began trying to scrub down the park themselves. The New York Times reports that a power washer was obtained, but was of no use because protesters couldn't find water to pump through it. Thirteen city council members wrote to Bloomberg, asking him to reconsider the new rules.
At 7:00 a.m. (Eastern), the move to get the protesters out will commence. Police are ready to aid in the eviction, while many in the park said they will refuse to move. This all adds up to some compelling viewing, and the Occupy Wall Street Live Stream should catch at least some of the conflict:
Note – the feed is intermittent, occasionally showing a "Lost Feed" title card. The feed typically does come back within a few seconds, however.
Have a tip we should know? tips@mediaite.com