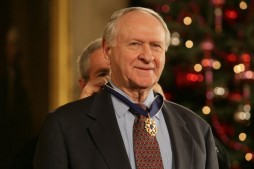 The New York Times is reporting that William Safire, a long-time former columnist for the paper, and speechwriter for Richard Nixon has died at 79. Safire joined the Times in 1973 and won the Pulitzer in 1978 for his commentary. Prior to that he worked on Nixon's 1960 and 1968 presidential campaigns; after Nixon's 1968 victory Safire served as chief speechwriter for both Nixon and his then Vice President Spiro Agnew.
From the obituary that has just been posted at the NYT.com:
He was a college dropout and proud of it, a public relations go-getter who set up the famous Nixon-Khrushchev "kitchen debate" in Moscow, and a White House wordsmith in the tumultuous era of war in Vietnam, Nixon's visit to China and the gathering storm of the Watergate scandal that drove the president from office.

Then, from 1973 to 2005, Mr. Safire wrote his twice weekly "Essay" for the Op-Ed Page of The Times, a forceful conservative voice in the liberal chorus. Unlike most Washington columnists who offer judgments with Olympian detachment, Mr. Safire was a pugnacious contrarian who did much of his own reporting, called people liars in print and laced his opinions with outrageous wordplay.
After retiring from his NYT column in 2005 Safire continued to pen (until earlier this month) the "On Language" column for the Times Magazine, which "explored written and oral trends, plumbed the origins and meanings of words and phrases, and drew a devoted following, including a stable of correspondents he called his Lexicographic Irregulars."
This was Safire's last op-ed piece for the NYT and you can read Safire's last 'On Language' column here.
Have a tip we should know? tips@mediaite.com