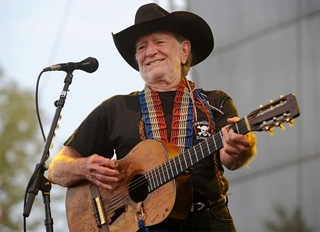 Legendary musician and outspoken drug legalization advocate Willie Nelson endorsed fellow outspoken drug legalization advocate Gov. Gary Johnson for president earlier this week, only to retract that statement earlier today and choose to endorse no one (yet). This is all fairly humorous, except most of the media outlets reporting this story have been burying the lede: Nelson withdrew his support because he's "already committed to Democratic Rep. Dennis Kucinich." Huh?
It truly is a shame that Newt Gingrich stole the thunder out of this story– and one must admit it lacks the glittery glory of that implosion. But Nelson's endorsement– and that of his political movement, the "Teapot Party" (yes, it's exactly what you think it is)– and immediate retraction would be in any other presidential campaign cycles one of the most curious bits of political gaffing in recent memory. Nelson and his team notified Johnson of the endorsement, which was received with open arms on Tuesday, with the governor announcing he was "truly gratified" about the endorsement. Then, 48 hours later, Nelson reneged, apparently because he had already promised Kucinich he would vote for him for president:
"I know I said that," Nelson replied. "But I think I will wait and see where he stands on other things. My bad. Sorry. I still think he is a good guy but so is Dennis [Kucinich] and if he decided to run I would personally vote for him. If it came down to either him or Gary I'm already committed to Dennis. They both have said they support legal pot."
In other words, any ad that uses Nelson's words of endorsement is a falsehood.
But isn't the more interesting part of this story that Nelson believes there is enough of a viable chance that Kucinich will challenge President Barack Obama for the Democratic nomination that he is reserving his otherwise full endorsement of a man who is actually running for president, and in a party in which– say what you will about Gov. Johnson– he stands a bit more of a chance? Dave Weigel argues that Kucinich's run "is really an open question," though that may be selling the possibility a little high, and doesn't really mean he would make any dent in the 2012 campaign at all. Then again, people are touting the possibility of Texas Gov. Rick Perry running, and he doesn't even want to be part of America.
Have a tip we should know? tips@mediaite.com