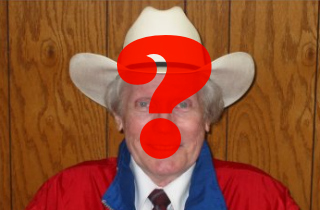 By most accounts, a large amount of hate capital was freed up on Thursday.
As the final ding, dong refrain faded into the stratosphere, and Westboro Baptist Church founder Fred Phelps took a number for his horn-welding appointment, it struck this scribe that the need for someone to loathe is a universal and/or possibly a cathartic expression — one that incites temporary bi-partisanship and (perhaps contrived) sessions of Kumbaya.

Certain expressions of disdain, it would seem, unite. Take it as unfortunate, funny, irrelevant, or encouraging — but take it as fact.
So, with that, I say, "Au revoir, Fred Phelps." The bigoted, size-15, ruby slippers you left behind will be incredibly difficult to fill (even Bryan Fischer thought you were bone-headed) but America is always on the lookout for new talent.
Here are some candidates for the new "Most Hated Man in America." Call it Tsar Search:
BERNIE MADOFF
It's as if, when Fred Phelps drew his final breath, the Rat signal went up in the sky, and Madoff knew what he must do: phone POLITICO. Madoff may have been #2 behind Phelps, so he seems to be the likely successor. None of these other candidates draw such unanimous hate like he does.
PAT ROBERTSON
The Ig Nobel Prize-winning televangelist hasn't found a tragedy he didn't use to spew his nonsense. If the end of the world is coming, Pat will know the day after — and he will somehow blame feminists, abortionists, homosexuals, thrift store sweaters, pagans, and gluten-free dietitians for it. He, too, appears to have noticed the Rat signal.
JUSTIN BIEBER
This privileged brat boasts two timelines: "Before he visited the Anne Frank House" and "After." As Mediaite dared you all last month, just try and watch his court deposition video without wanting to punch your computer screen. Aside from several million screaming teenagers and hordes of crazy Twitter followers, most of America seems Bieber-weary. Rightfully so.
WAYNE LAPIERRE
Few speeches have been as widely criticized as his December 21, 2012 speech following the impossible tragedy at Sandy Hook. LaPierre also utilized the horror of it all to address the safety of the President's children as a talking point. Many Americans love and trust the National Rifle Association, but LaPierre has become a symbol of the gun lobby's tone-deafness when it comes to mass murder.
CNN PRODUCERS
Where is the plane? Where is the plane? Could it be in a black hole? Screw it — let's just universally hate CNN for a while. Or the 24/7 news cycle, for that matter.
THE GUY NEXT DOOR WHO BUILT THAT FENCE AND IS ANGRY ABOUT YOUR GARDEN
Maybe it's just best to keep the hate local.
— —
>> Clark Young is, above all things, a Mainer and Red Sox fan. Follow him on Twitter here.
Have a tip we should know? tips@mediaite.com