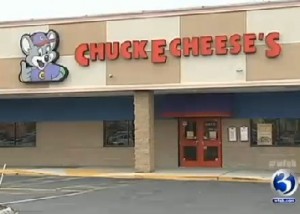 For those familiar with the soothing atmosphere of the average Chuck E. Cheese's, the pizza-serving, robot-populated children's amusement paradise, you're probably already familiar with the chain's slogan, "Where a SIG can be a SIG," or something like that. Earlier this week, a woman in Newington, Connecticut was arrested when, in a dispute over a child's unplanned exit from a ride, she brandished a .380 semiautomatic pistol at another woman and chambered a round. Unfortunately, the other woman was unarmed, and was unable to defend herself by starting a shootout in Chuck E. Cheese's.
Wonkette notes a little something fishy about HuffPo's headline:
Tawana Bourne, who is not a public figure but this does not stop HuffPo from putting her name in their headline (we can't imagine why but it doubtless has nothing to do with Tawana usually being a black name we are sure!), was at a party at the ratty party palace in Midland and her son pushed another lady's daughter off a ride.
From The Huffington Post:
According to police, Tawana Bourne, 30, of Middleton, Conn., "brandished a .380 semiautomatic handgun and chambered a round" during a verbal altercation at the restaurant, which is geared toward children. No one was hurt in the incident.

"That's a step up from just having a handgun in your possession," Newington Police Sgt. Chris Perry told ABC local affiliate WFSB. "There's non-verbal intent there. So, that's how I'm assuming the victim took it and that's how we took it."
One issue that has largely been lost in the recent debate over gun violence is the effect of concealed carry laws, and their relationship to the potential for conflicts to escalate, as in the cases of Jordan Davis and Trayvon Martin. Proponents of concealed carry and so-called "stand your ground" laws argue that arming everyone deters gun violence, rather than escalates it.
Tawana Bourne had a concealed carry permit from the allegedly strict state of Connecticut, but her alleged victim, thankfully, did not. Reports on this incident note that the handgun was legally purchased and carried, but that's not entirely true. The restaurant had a clearly-posted sign prohibiting weapons on the premises, which, in Connecticut, carries the weight of law:
The issuance of any permit to carry a pistol or revolver does not thereby authorize the possession or carrying of a pistol or revolver in any premises where the possession or carrying of a pistol or revolver is otherwise prohibited by law or is prohibited by the person who owns or exercises control over such premises.
The Violence Policy Center tracks killings by concealed carry permit holders which were not judged to be self defense, and has found 499 such killings since May, 2007, including 14 law enforcement officers.
The term "law abiding gun owner" gets tossed around a lot in the current gun violence debate, but it's worth noting that, in a country where it is so easy to legally purchase firearms, pretty much everyone is a law abiding gun owner – until they aren't.
(h/t Wonkette)
Have a tip we should know? tips@mediaite.com