Woman Sues Psych Ward for Drugging Her After She Claimed Obama Followed Her on Twitter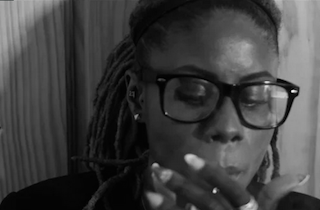 Kam Brock filed suit against Harlem Hospital's psychiatric ward Monday, claiming the hospital kept her drugged up for eight days in part because she claimed President Barack Obama followed her on Twitter — which, it turned out, he does.
Brock had been pulled over for a suspected weed bust; the NYPD found no drugs but confiscated her car anyway. When she tried to retrieve it from a Harlem station, she became "emotional," in her words, and soon found herself cuffed and taken to the hospital.
"Next thing you know, the police held onto me, the doctor stuck me with a needle and I was knocked out," Brock said. "I woke up to them taking off my underwear and then went out again. I woke up the next day in a hospital robe."
Brock's lawsuit alleges the hospital kept her sedated and forced her to take lithium, among other charges.
Per the New York Daily News, Brock tried to argue with the doctors that she was an employed, mentally-stable person. "I told (the doctor) Obama follows me on Twitter to show her the type of person I am," she said. "I'm a good person, a positive person. Obama follows positive people!"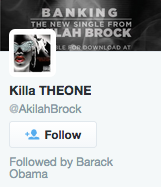 A document filed with the lawsuit showed the hospital did not believe her. "Objective: Patient will verbalize the importance of education for employment and will state that Obama is not following her on Twitter," the document said. Doctors also did not believe Brock was employed, though she was, at a bank.
Obama's Twitter account, run by Organizing for America, follows close to 650,000 people, a volume that's ensnared him before.
Neither the NYPD nor the hospital commented to NYDN. Brock seeks unspecified damages.
One upside: she's gotten 200 more Twitter followers in the last 48 hours.
[h/t NYDN]
[Image via Twitter]
— —
>> Follow Evan McMurry (@evanmcmurry) on Twitter
Have a tip we should know? [email protected]