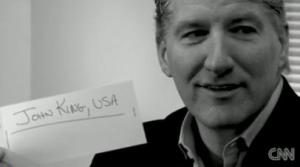 CNN's John King spent 2009 driving around the country and visiting every state as part of his State of the Union show.
Well the Twitter scavenger hunt is over, and King tweeted the video preview for the new program this morning – John King, USA (a road-trip-themed name) debuts March 22.
In the preview (below), King describes the name as "a little bit uncomfortable for me," since it contains his name. Also, of the strong political focus: "I was already deep in like, and I feel in love."
Although he'll be anchoring primarily from D.C., the year he spent traveling the country will translate to a focus in the new 7pmET show:
We will always have people out roaming the country, we will always have people looking for good stories out there you cannot cover national politics just by being in Washington D.C.
When we interviewed King in November about his new show, he described the takeaway from his travels: "The country is a very complicated jigsaw puzzle," he said. But will the 'ordinary American' focus, coupled with an objective news-focused show, bring the Everytown, USA viewers to John King, USA? We'll see. One problem will be keeping it exciting for politics junkies while interesting for the more casual viewer.
But really, it boils down to separation from the rest of the CNN news-focused programming, which hasn't been succeeding at the level CNN needs.
Here's the preview (and another preview is coming March 19):


—–
» Follow Steve Krakauer on Twitter
Have a tip we should know? tips@mediaite.com