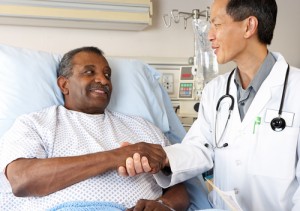 The Johns Hopkins University School of Medicine in Baltimore is about to perform the nation's first penis transplant on an American veteran wounded in Afghanistan.
According to The New York Times, the unidentified patient's surgery is scheduled for sometime in the next few months. At the latest, the surgery will occur within a year, though it all depends on when the Johns Hopkins staff is ready.
China and South Africa are the only other nations whose doctors have reportedly performed penis transplants in the past decade. The Chinese surgery in 2006 was unsuccessful, though last year's South African operation worked.
Dr. W. P. Andrew Lee, the chairman of plastic and reconstructive surgery at Johns Hopkins, stressed that current and potential patients shouldn't "think they can regain it all." The operation itself, like other appendage transplants or graftings, is a long process. Post-surgery recovery and adapation takes even longer — if the new organ(s) are accepted by the body.
Even so, Lee stresses that what are called "genitourinary injuries" are just as detrimental to male veterans as loss of limb, if not more. That's because the psychological repercussions of losing one's genitalia are incredibly significant.
"I think one would agree it is as devastating as anything that our wounded warriors suffer, for a young man to come home in his early 20s with the pelvic area completely destroyed."
NYT interviewed several other doctors and injured veterans for further context on the impending surgery's significance. Sgt. First Class Aaron Causey, who lost one testicle, part of another and both legs to an I.E.D. in Afghanistan in 2011, was adament in his opinion.
"I don't care who you are — military, civilian, anything — you have an injury like this, it's more than just a physical injury."
Previous operations using skin and muscle grafted from other parts of a patient's body to create a new penis have been successfully undertaken before. However, as the NYT notes, erections are impossible without an implant. A penis transplant removes the need for such a device.
[h/t The New York Times]
[Image via Shutterstock.com]
— —
>> Follow Andrew Husband (@AndrewHusband) on Twitter
Have a tip we should know? tips@mediaite.com