WRONG: Reporter Deletes Tweet Claiming Russian Spy Was in Oval Office with Trump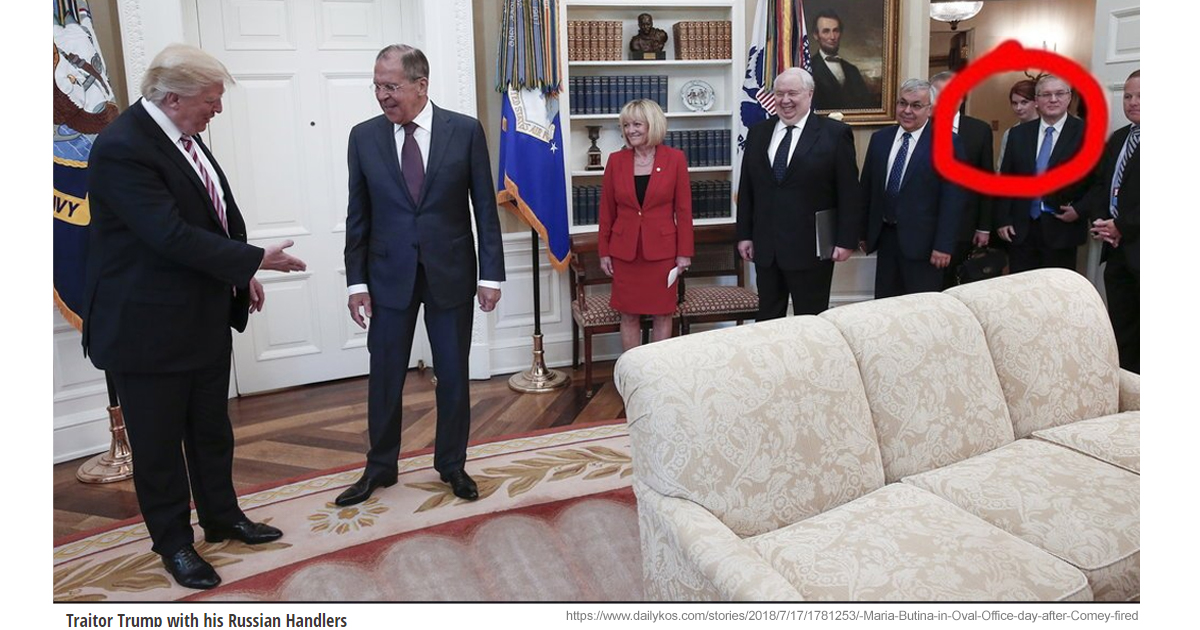 Talk about getting it wrong. There are mistakes, and then there are mistakes, and this is the latter. On Monday, a woman, Maria Butina, was arrested and charged, federal agents saying she worked as a "foreign agent" who conspired to set up private communications between the Russian government and Republican politicians in the United States.
It would be a pretty big deal if it turned out there was a photo of that Russian agent in the White House, and an even bigger deal if it were the Oval Office with President Donald Trump, and a huge red siren big deal if she were in the Oval Office on the very week former FBI Director James Comey was fired.
And that's exactly what Mic reporter Emily Singer reported on Twitter on Tuesday. Only she was flat wrong.
Here is the original tweet: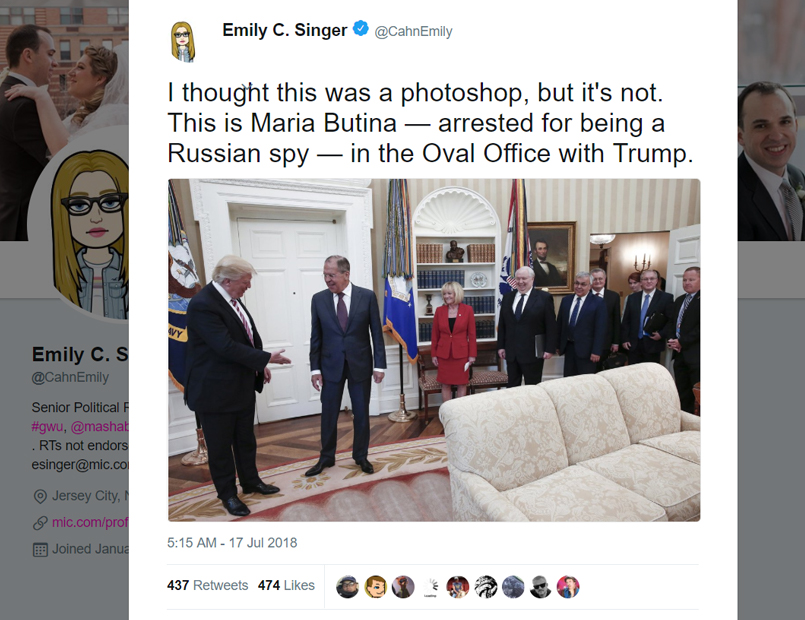 Only that isn't so. That's not her. The Daily Beast's Lachlan Markay first heard from the White House that it might be Cari Lutkins, a White House staffer, who was actually pictured.
A fmr WH official tells me he thinks the person in this NYT photo is Cari Lutkins, the WH's deputy director of events, who plans logistics for events like these pic.twitter.com/NZJ0z7IUqt

— Lachlan Markay (@lachlan) July 17, 2018
Around the same time, several hours hours after she originally tweeted the pic, Singer posted her own doubt.
OK all, this may be Cari Lutkins from the NSC. I may delete this tweet… https://t.co/DI0zpju68I

— Emily C. Singer (@CahnEmily) July 17, 2018
She then deleted the tweet.
I've deleted the tweet. I cannot confirm that it is Butina and may be an NSC staffer. https://t.co/DIm1grRI9w

— Emily C. Singer (@CahnEmily) July 17, 2018
The photo was still going around, though, and Buzzfeed's Tom Namako confirmed that it was event planning Lutkins in the Oval Office and not Russian operative and federal detainee Butina.
This photo is going around: That is not alleged Russian spy Maria Butina in the Oval Office With Trump. It's an NSC staffer, a NSC source tells BuzzFeed News. pic.twitter.com/k1pDeIBZiK

— Tom Namako (@TomNamako) July 17, 2018
That is a major screw-up. It's not merely a tweet. This was a reporter, treated credibly, retweeted credibly, saying that a Russian foreign agent was in the Oval Office. The photo is from the day after the Comey firing was announced.
Just look how liberal democrat blog DailyKos jumped on it: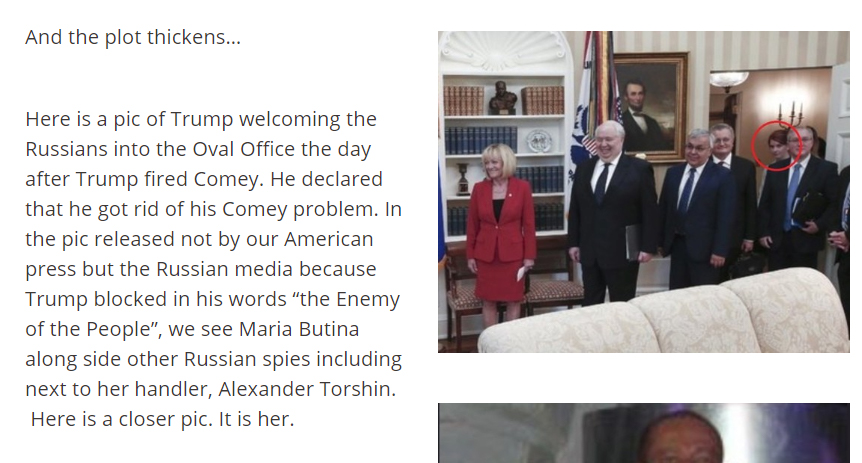 The damage is out there. Here's a Newsweek reporter repeating the totally unverified claim about the photo, AFTER it was not only already debunked several times, but after Singer's tweet was deleted.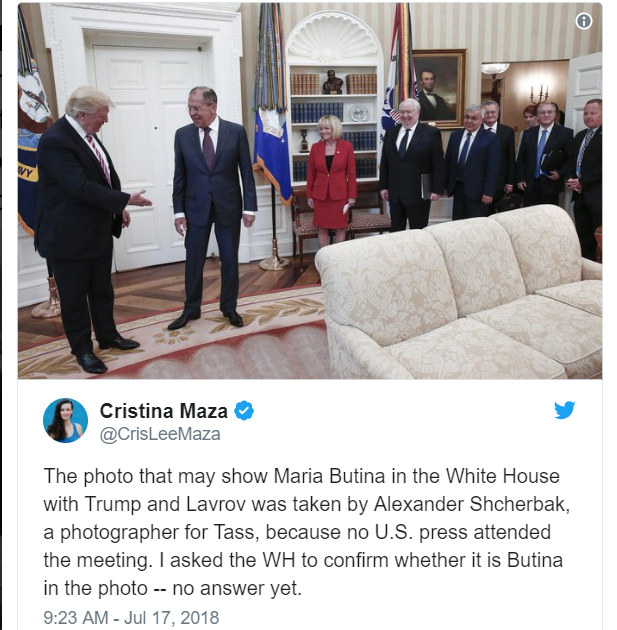 And there are plenty more.
Recall that it was incorrect reporting on Russia and Trump that got Brian Ross suspended from ABC, eventually resulting in his departure, after he falsely claimed that Michael Flynn had been directed to contact Russia during the campaign. (It actually happened after the election.)
It is the biggest story in the world. Russia and Trump, meddling or collusion, and the media's most constant story for almost two years now. Reporting that an arrested Russian operative was in the Oval Office with Trump is not a casual mistake.
It's a very, very big one. An avoidable one. And it should have been avoided.
[Featured image via screengrab]
—
Follow Caleb Howe (@CalebHowe) on Twitter
Have a tip we should know? tips@mediaite.com