WSJ Editorial Hits Obama For Big Bird Jokes, Lack Of Any Real Deficit-Reducing Plan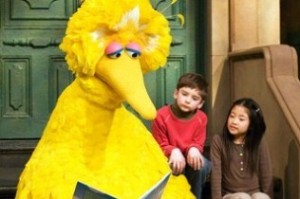 The Wall Street Journal's editorial board criticized President Obama's newfound Big Bird narrative on Tuesday night. The piece, entitled "Big Bird, Small President," said Obama's jokes aren't funny — because he's the one who's offered no plan to control government spending.
"At least he's finally discovered a second-term agenda," the editorial quipped. Adding:
Mr. Obama is mocking a small effort to reduce federal spending, but it would be funnier if Mr. Obama hadn't also rejected all the larger efforts too. From Congressional Republicans. From his own Simpson-Bowles deficit commission. From a bipartisan group in the Senate. At the San Francisco event, as at the debate, as at every other campaign event this year, Mr. Obama offered no plan to move the government's spending into the same galaxy with its revenues.
The U.S. is may be on the "fiscal path" to Greece, the WSJ said, but Obama working class citizens with stagnant incomes should devote part of their tax dollars to "one of the most successful TV properties of all time." To illustrate that point, the editorial gave a brief rundown of Sesame Street's numbers, including the following tidbit: "At the end of fiscal 2011, Sesame Workshop and its subsidiaries had total assets of $289 million."
The WSJ concluded:
So Big Bird likes to maximize revenues and investment gains as much as the next muppet. And now the President has made this adorable critter the symbol of federal programs that allegedly require eternal taxpayer aid, even if it has to be put on the future tax bill of today's pre-schoolers. Is that funny?
Read the full editorial over at The Wall Street Journal.
Have a tip we should know? [email protected]
---